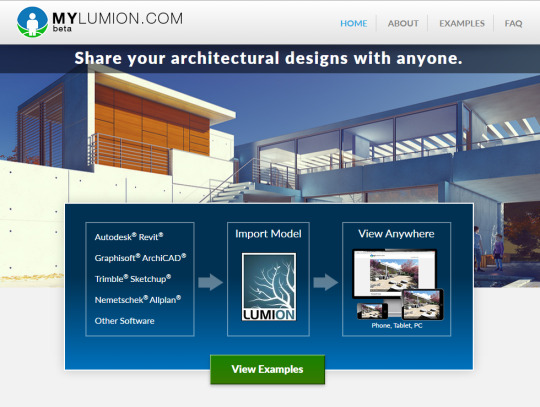 MyLumion, a new feature within Lumion, provides the opportunity to share your design fast and easily on phones, tablets and computers. It gives architects control and customers the freedom to step into a design and look around.
The business
Architecture is a competitive business. It demands continuously thinking up new ways of convincing potential clients to choose your ideas and designs over those of your competitors.
Many architects have made the jump from 2D drawings to 3D design, either using SketchUp, Revit or another similar 3D CAD package in combination with Lumion. Lumion takes these 3D designs and enables high quality still image renders and animated fly-throughs to be made by even inexperienced software users.
The dilemma
Most architects face a dilemma in trying to win new business. On the one hand they want to show their 3D ideas for the project in the best light possible and on the other they can't invest too much time and effort in the tender phase of a project, as they don't get paid for it: They have to trade off the amount of design time invested with the visual impact of their designs.
In practice, this dilemma means partially designing the project and then showing the part that is designed in a positive light – and not showing the part that isn't yet designed! How to do this? If you make still shots or an animation (in Lumion for example), then you can show exactly what you want to show. You can choose the locations of the shots and you can specify the flight path of your fly-through. That's one solution. But what if your customer wants the freedom to walk through the design? Suddenly you have lost the control of what the customer chooses to look at.
The balance
Luckily, all is not lost! Imagine you could specify points in your design where the customer can look around. Or even multiple viewpoints, for example one in the garden, one in the kitchen and so on. The customer could then choose to jump freely between the viewpoints. Imagine also, that your customer could reach your designs via internet and could view them any place, any time with their own computer, phone or tablet. This would allow your customer the freedom to move around the design at any time they want and would allow you, the designer, the control of specifying where they can look around by defining the viewpoints yourself. It's a perfect balance between freedom and control.
More information here