Fast is a relative term. If Lumion is fast, then what is it faster than? And is it fast enough? In this article, we look at how Lumion is faster than the alternative tools and methods that aim to render a high-quality visualizations of architectural designs.
To put it more strongly, as long as your computer has a good graphics card, Lumion is so much faster than its alternatives that formerly unrealistic options suddenly become realistic. For example supplying multiple high-quality still images and a 3D flythrough animation to your clients, even on small projects. As Rob Terry of VOA said, "the speed/quality relationship in Lumion is simply unprecedented" and as a result, "Lumion has helped pioneer a whole new workflow in VOA". This gives us a nice clue about where to look to find the answer to why everyone who uses Lumion describes it as "fast": Lumion is not only fast at rendering, it makes the whole workflow faster. The super-fast rendering can be explained by the world leading technology inside Lumion but there is more… the way Lumion interfaces with CAD programs and with users is also somehow "fast".
The bottom line is that Lumion enables animations and still images of astounding quality to be simply created in a realistic timeframe. Effectively it makes things possible that are impossible using alternative workflows. For example, creating animations becomes a possibility for even small projects, creating as many still images as you like with and without effects becomes possible without any additional cost, hassle or waiting. Erik Varvel of Clarke Patterson Lee said "Previously, preparing videos for clients was an unrealistic option because of the difficulty and timescales involved but Lumion makes it so easy and fast that making a high quality flythrough video for clients as part of our offering, is now a very realistic possibility."
So, we need to look into the "workflow" if we want to winkle out where Lumion does things fast. The picture below shows a highly simplified overview of the 3D modelling and visualization workflow. It can be thought of as containing four distinct activities because each of these activities can be facilitated with different software packages, if so wished or alternatively, some software packages combine some of the stages.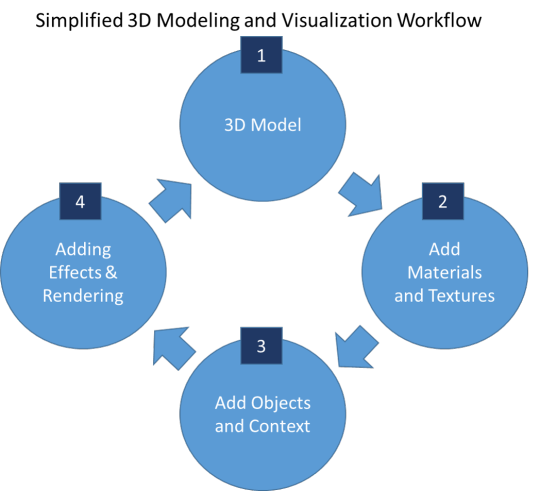 Step 1 – The 3D Model
3D modeling software is now commonplace and those designers and architects who are not yet using it will soon be in the minority. Many countries around the world are building into the national legislation the need to adopt 3D as part of the BIM trend and the efficiency and reliability it will deliver throughout the construction process. This is stimulating and speeding up the transition away from 2D to 3D working and as this happens, the expectations of owners and building developers is increasing which is creating a positive feedback loop, speeding up the transition still further. Whether it be SketchUp, Revit, ArchiCAD, Allplan, Rhino, Vectorworks or any other 3D software package, the road to a visualized representation of a design beyond that very first combination of imagination, a pencil and a piece of paper, is more often starting these days with a 3D model built in a suitable software package.
Creating a 3D model is the first step but then comes a process of iterating towards perfecting the model and the design itself. This could involve discussions with the (potential) client, contractors from various construction disciplines or many other kinds of stakeholder. In order to have these discussions, communication of the design idea is necessary. The better the visualization, the better the communication and the better the communication, the better the result. The spin-offs of better communication are cost and speed. Speedy and accurate decisions without misunderstandings leads to fewer mistakes, and less time and money spent on corrective work.
Once the model is available, visualizing it should be fast and easy. This is hurdle number one: How to get the 3D model quickly visualized? Lumion immediately starts to differentiate itself from alternatives. It is compatible with Revit, SketchUp, ArchiCAD, Allplan and many other software packages – just click on the links to see how easy it is. Collada files (.DAE) work perfectly and Lumion even has dedicated plug-ins which can be installed in your 3D CAD program to help save a Lumion-optimised file which simply and seamlessly uploads into Lumion. The Collada (.DAE) file format and the native SketchUp (.SKP) format are both very good standards for 3D models but other file formats also work well with Lumion, such as .FBX or .MAX. For a full list of compatible file types, look at theLumion Products page.
Try doing the same upload process not using Lumion. How long did it take? Did all of the information transfer across? If your 3D model was a large one, perhaps the size of a small town, did it upload at all? How easy was it to plant your model in your landscape? In Lumion, the process is fast and smooth. In the alternatives, all too often it's slow and anything but smooth. In the worst case, your computer might give up the ghost and crash under the strain!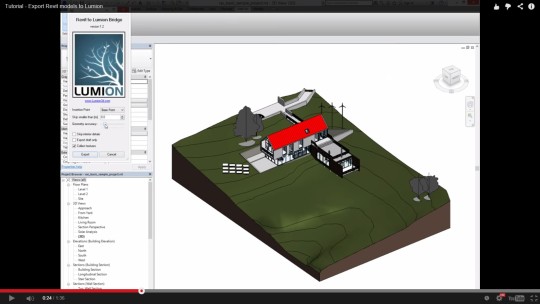 Fig 1. Saving a model in Revit using dedicated Lumion bridge
Step 2 – Adding Materials and Textures
In making the 3D model, material categories will probably have been labelled and maybe specific materials and textures have already been assigned. If so, these surfaces, materials and categories will also be transferred into Lumion, when using the .DAE or the .SKP file formats.
In Lumion, it's a simple matter to add materials to any surfaces that you've defined. Lumion comes with a huge library of high quality materials, all of which can be fine-tuned and adjusted in terms of scale, glossiness, reflectivity and other parameters. The whole process of adding and adjusting materials involves zero waiting. It happens in real time. It's a matter of clicking through the visually intuitive icons and applying the materials you need in real time. You also tweak the materials in real time and because you get immediate visual feedback, you can very quickly arrive at exactly the look you're after.
It's a simple process to add grass, glass, water, bricks, tiles, asphalt and many other materials, all of which are adjustable, so that you can get them just the way you want them. If you already have a materials set in Lumion that you previously saved like and use regularly, you can speed things up further by directly loading the materials set and using it on your project.
Lumion is perfect for the iterative process of adding, adjusting and fine-tuning your materials and textures. The Lumion team firmly believes that there is no other software that allows you to iterate towards the results you can achieve with Lumion as fast as you can do it in Lumion.
Add Materials, including grass, glass and countless others from the Lumion Library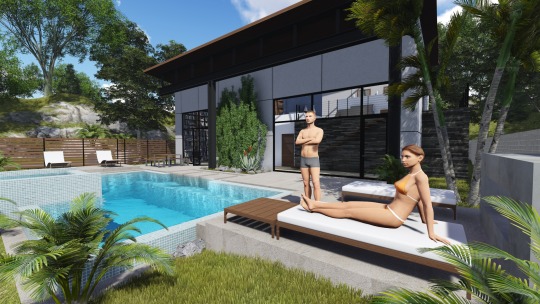 Fig 2. Villa garden with swimming pool
Step 3 – Adding Objects and Context
Maybe you've tried some alternative 3D visualization products. How was the library of objects that was delivered in the price? Was there a library at all? Did you have to buy it separately? Was there a complicated credit system for buying the objects? did you manage to find the objects you were looking for? Were the objects of satisfactory quality?
In Lumion you get a huge library delivered in the price and all the content is perfectly tuned to look good in Lumion because it was developed for Lumion. It all looks wonderful. The trees shimmer in the breeze, the people move naturally through your scene, the plants look amazing. It's also improving all the time. The development pipeline just keeps on flowing.
Perhaps the main advantage of such a library is that the objects are quickly and easily available to you just at the moment when you need them. Just click on the library icon and select what you want. You can even make your own favourites tab and save your favourite content there, just so you don't have to go looking around the library for what you need. So the whole process of placing objects is fast and simple and the result is that the scene around your model gets quickly filled with all kinds of shrubs, trees, cars, people, animals and anything else that your scene needs.
When creating the context for your model, Lumion comes into its own. It's not just about the objects. Like Michael Bryant of Bryant Design Studios said "It's about breathing life into your design" byadjusting the terrain or adding the right kind of sun, cloud, ocean, weather, lights, lighting, shadowand a multitude of effects like fires, fountains, sketchiness… and the list goes on, in as many combinations as you like. All of it easy to apply, intuitive and visible as fast as you can click. When you experience an ocean or trees with falling leaves appearing in your scene just with one or two mouse clicks, it's guaranteed that you will smile.
The scene-building possibilities created by the combination of Lumion's extensive object library, the wide range of atmosphere-creating possibilities and the real-time implementation and visibility of every change you make, is the crucial combination that makes Lumion such a powerful visualization tool.
Example video showing a large landscape, including thousands of objects from the Lumion Library.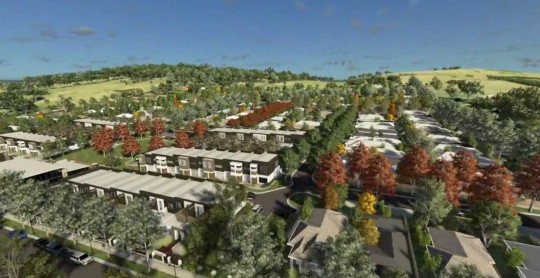 Fig 3. Video by Derek W from the Lumion Forum
Step 4 – Adding Effects & Rendering
As Rob Terry of VOA said "we did a test and the top rival took 80 seconds to render an image that took Lumion only 11 seconds on the same machine. This efficiency difference alone was very attractive but the quality of the Lumion render was also far superior."
Lumion is not just a little bit faster than the alternatives on the market, for the kind of high quality that Lumion offers, it seems to be in a league of its own. Rendering via the cloud is fast but it's also expensive and have you ever tried rendering a 3D animation in the cloud? Or even a few still images? How did that work out for you? Did you get back what you wanted? Could you even achieve what you wanted? Was it convenient? How many times did you to tweak or did you just have to settle for something which wasn't quite right? How long did that process take? How much did it cost in terms of total workhours and cash? For Architects, Designers and Construction professionals, Lumion changes the rendering game in terms of the combination of price, quality and speed.
The process of rendering can also be broken down into its own workflow. Depending on the rendering process you choose, the workflow can vary widely from say outsourcing the visualization to a separate department or company, or rendering in the cloud, or deciding to do it yourself with Lumion.
Once the scene is ready, you have to decide if you want still image renders and/or animations. This choice can be very important if your workflow doesn't include Lumion. It can also be a very important choice for your potential client. Imagine that you deliver to them a simple still image render instead of, let's say, a high quality 2 minute animation together with 10 beautiful images, all with effects communicating your design to the full. How would that affect your chances of winning the race for the project? How impressed would your client be with your work?
In Lumion you have the choice of making images, animations or exporting your scene for real time viewing in the Lumion Viewer program available with Lumion Pro. Images and animations are the most popular choice with Lumion users.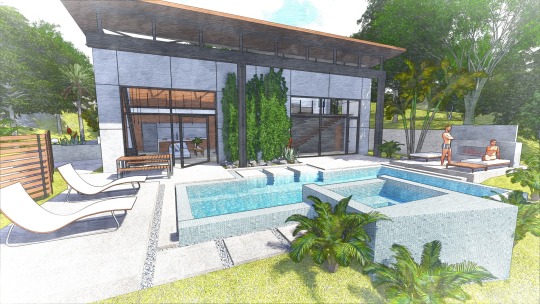 Fig 4. Example of a scene with sketch effect Took 5 seconds to render in Lumion 4.5.1 with Nvidia 780M graphics card
While preparing an image, you will need to find the right angle from which to take your picture, you will also need to find the right lighting, maybe add some effects like lens flare, sketch effect, two-point perspective effect or emphasise reflections, for example. In Lumion, these effects and many more are fast and easy and can be added in any combination with each other. You can render an image in a few seconds and if you don't like it, simply adjust it and make another one. Probably you'll be satisfied with your first one because in Lumion, when you add your effects, they are instantly visible. So the rendered image is simply a higher quality version of the image you see in the Lumion editor. In any case, rendering a second or third or tenth image is no problem because the render times are so short; just a few seconds each.
Similarly, if you want to create and render an animation (we could also call them videos or movies!), the process is fast, intuitive and the possibility exists at any moment for trial and error tweaks, to get the animation looking exactly as you want it. You can amend anything in the scene even once you have built your movie and the change will be instantly visible in your Lumion movie strip and will of course then be included when you render your movie. You can add, adjust and remove a multitude of effectsto get your scene looking exactly as you want it. For example, if you want to add a bloom effect,motion blur or, animate people and cars or insert effects like smoke, fire or fountains, you simply click on the effects tabs and select the ones you want. You can create a camera path in Lumion intuitively, easily and fast. You can also add new clips, remove them or change their order to build up your movie until you're completely satisfied with it. Only then, do you need to render your movie.
In other words, the workflow necessary to create your still or animation, complete with effects and trial-and-error tweaks, followed by the final rendering is a fast process. It is fast relative to alternative rendering workflows and the combination of speed, quality and cost make Lumion a hands-down winner for many Architects and Designers who make an objective comparison with the alternatives. The investment in Lumion will probably pay back in the first project and from then on it will secure you an advantage over your competitors. But the industry changes are happening so fast that NOT having Lumion to make these kinds visualization will, before too long, be a critical disadvantage. The Architects and Designers who don't make the change will more likely than not find themselves struggling to compete with those who made the leap towards Lumion earlier.
Yes, Lumion is Fast!
Having outlined the visualization workflow, take a few minutes to whiz through this video to see a real time recording of a scene being built with Lumion. It shows how simple and fast it really is. There is much more in Lumion than has been explained in this article, if you would like to view more of the functionality, you can look through the Lumion Tutorials available on the Lumion3d.com website.
As Davis Chauviere of HKS Architects said "In weekly update meetings, the typical workflow used to be like this: two days designing and three days getting the model prepared and rendered. Now HKS designers are designing for four days and the preparations and rendering have been reduced to just one day. That's a huge improvement for us and our clients"
Additional information
Link to Lumion homepage
Link to Product Page
Link to Lumion customer experiences