Property advertising agency, TEN OVER MEDIA, recently won two creative advertising awards with their Lumion videos. Creative Director Mathieu Anfosso sat down with the Lumion team to discuss how he and his twin brother implement a people-first design philosophy and bring out the emotion in property animations.
It was their first animation together, and when twin brothers Remi and Mathieu Anfosso were discussing strategies for how to best show a building, they came across an interesting insight.
"Dude, they all look the same," said Remi Anfosso, a young film director with a successful background in making videos for the film and TV industry.
"They're completely different! What are you talking about?" responded Mathieu, Creative Director of TEN OVER MEDIA.
Remi shook his head. "To everyone involved in the project, and especially the architects and clients, it may look different. But to the general public, it looks the same."
This brief conversation between Mathieu and Remi would go on to form their ideas about communicating architecture and why so many 3D animations seem to fall flat.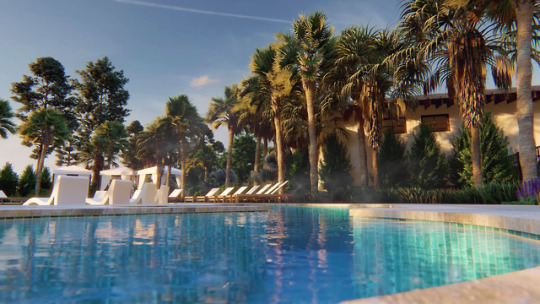 Pool shot from the Carolina Pines project, by TEN OVER MEDIA.
"Emotion is really missing from 3D marketing videos," Remi stated on the TEN OVER MEDIA website, "and it is the one thing the audience is interested in."
From specific shots meant to incite memories to overall themes designed to immerse viewers into a story-driven, emotional world, the entire team at TEN OVER MEDIA have made it a point to put people and personal experience at the heart of architectural animations. The goal is to help audiences connect with property on a close, personal level. When the property is finally built, they hope a person will already feel at home; they hope people will already know what it feels like to enter the space.
"Carolina Pines – There's Room At The Pines," by TEN OVER MEDIA. As Mathieu explains, "That's how we know we've hit the mark." The team at TEN OVER MEDIA has been producing animations of RV resorts, hotels, resorts, ranches and more, and just this year, the team won two 2019 Muse Creative Awards for their River Run (Platinum Award) and Carolina Pines (Silver Award) projects.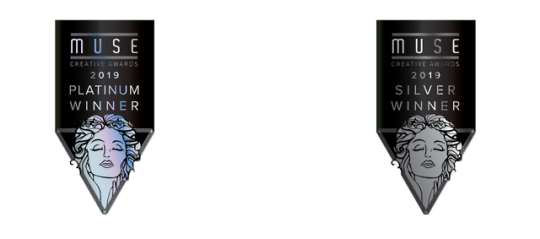 In this blog post, we sat down with Mathieu to discuss TEN OVER MEDIA's approach to property animation, and how the brothers' design philosophies have played a significant role in winning both clients as well as the hearts of audiences.
River Run and Carolina Pines: two award-winning videos by TEN OVER MEDIA
With Mathieu as Creative Director and Remi as the Film Director, along with the rest of their team, TEN OVER MEDIA has recently won two 2019 Muse Creative Awards for their recent videos. You can watch the videos below.
Carolina Pines, which won the silver recognition:
"Design like you give a damn"
When approaching projects like Carolina Pines and River Run, Mathieu said that the entire process was built off of one company core value — "design like you give a damn."
According to Mathieu, this is an overriding theme guiding each project from the first client meeting to the moment the videos are rendered in Lumion. "To us, average is unacceptable. Questioning the status quo, pushing boundaries and making a positive impact are part of our standard process." This includes not only the way the team works but the impact they hope a video will have.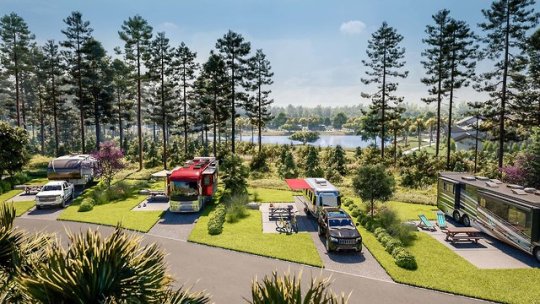 RVs at Carolina Pines, by TEN OVER MEDIA.
"You can produce something and be really proud of it, but it might not have the impact you were hoping for. It can raise eyebrows, it can be any kind of thing, but what's important to us at TEN OVER MEDIA is really understanding our audience and who we're talking to. What's important is to put our egos aside."
In the Carolina Pines video, for example, the team started off with a lot of material and some general concepts. Right from the start, Mathieu and Remi were discussing how they could integrate some of the concepts.
"One of the main concepts was our goal to create memories that don't exist yet. We wanted something for everyone that's both nostalgic and fresh. We wanted the property to feel contemporary, upscale, active, charming and a getaway from the sounds of the city."
All in all, Mathieu said, they wanted something fun to watch. One clear example of these ideas — the philosophy of "design like you give a damn" — was evident during the pool scene of the Carolina Pines video.
Carolina Pines – Dive Into the Experience, by TEN OVER MEDIA.
"You're in the pool and it's hot out. You dive into the water, and when you get out, what are you going to do to feel refreshed? You'll go back to your lounge chair and have a sip of your drink with an 'Ahhh' feeling. That is what we were trying to show: dive in, sit back, relax and have a good time." Especially in property marketing, well-designed videos can be highly effective in showing experiences and connecting with audiences over how they will interact with a building or space. Details such as the swimming pool, the brunch, the towel over the chair and many others, these are all things that can transport a person to the property and show them the type of person they'll be when they stay there. And according to Mathieu, "These are the kinds of things that are going to make you remember the property in the end."
"Keeping it real" — Translating client needs into beautiful animations
In addition to implementing emotional concepts into their Lumion animations, the team at TEN OVER MEDIA also values the idea of "keeping it real." For Mathieu, this means being authentic to one's self and with colleagues, clients, contractors and all of the other individuals that must come together when designing and communicating a property.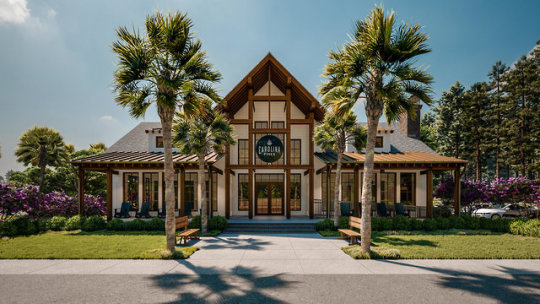 Front facade of Carolina Pines, by TEN OVER MEDIA.
"When we go on a site visit and meet with the clients," Mathieu said. "We aim to understand not only the property and the client's goals, but also the people and where they're coming from. From there, we can build a meaningful relationship that sometimes lasts over a few years. It's probably what we're most proud of." In the making of the Carolina Pines video, for instance, Mathieu and Remi flew out to South Carolina to meet with the client. At the time, Remi was on a one-year vegan diet and the client casually mentioned how her daughter was on the very same diet. From this, Mathieu found an opportunity to turn an awkward, business-like introduction into a casual conversation, and, as Mathieu said, "It unlocked something in our conversation." From that moment on, their interactions took on a friendly air. "We were walking around the property, discussing these vegan diets, and all of a sudden the client started talking about life in South Carolina. She mentioned how the folks there are all about their weekend brunches. It's all about hosting others. The setup. The typical table fabric, and all that stuff, and, you know, we saw a good opportunity to translate that into the video. Now, we have a short brunch setup and scene in the video, and that was an inspiration we got on site."
Carolina Pines RV Resort – A Touch of Upscale and Totally Down Home, by TEN OVER MEDIA.
It is these types of conversations that Mathieu says will have never come up in an email conversation, but it does come up on an informal or casual site visit. "The more casual a conversation becomes," he said, "the easier it is for the client to talk openly about his/her vision." You can see this same idea in the River Run video. Mathieu mentioned that when the TEN OVER MEDIA team was in Colorado on the River Run site visit, the client started talking about how she wanted the video to show scenes reminiscent of Christmastime photographs that sit above a warm fireplace. "This was a huge, huge clue that helped us move the video in the right direction.
"Leave the world better than we found it"
According to Mathieu, every piece of architecture has two lives: one life in the imagination (before it's built) and a second life in reality (after it's built). With a philosophy of "leaving the world better than we found it," the TEN OVER MEDIA team strives to use staging, props, setup, lighting and more to make the imagined building as real as it can be.
"And this wouldn't be possible without Lumion," Mathieu said. "Having my brother on board as a film director, Lumion helps build an entire world in 3D. You've seen Carolina Pines — we were able to build a scene with tens of thousands of trees, and the overview shots only show half of the project. I'll be sitting with a big screen next to my brother and we're walking the property in Lumion just like we're walking the real property, and that's when he'll get his ideas so that we can start shooting."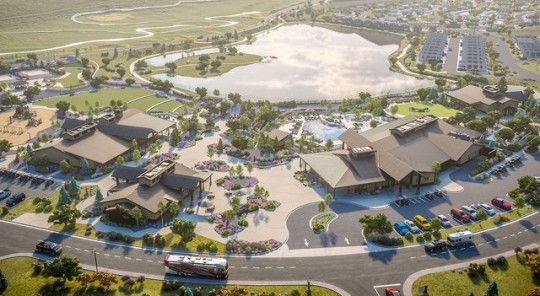 Birds-eye-view of the River Run project in Colorado, by TEN OVER MEDIA.
"When we start shooting, you never know how a video clip feels until we put it into the editing draft to see if it's really working. At low resolution, exporting that shot takes one minute. We're able to try a shot, export it in a minute, put it into the editing software and check if it's working for the whole video, all in 5 minutes. That's unheard of. It's allowing us to go so much faster."
"With Lumion, everything is possible," he continued. "If you can do it in real life, you can do it in Lumion. And that's something we do every day. When we are shooting something with my brother as the film director, we really try to mimic the movements you would do on a movie set. So, if we're doing a crane shot, for example, we can make those crane movements and vibrations in Lumion. We're able to recreate it using all of the tools that Lumion provides. We did some green screening for Carolina Pines, and while Lumion doesn't provide green screening, there are tips and tricks within Lumion that allows you to do that."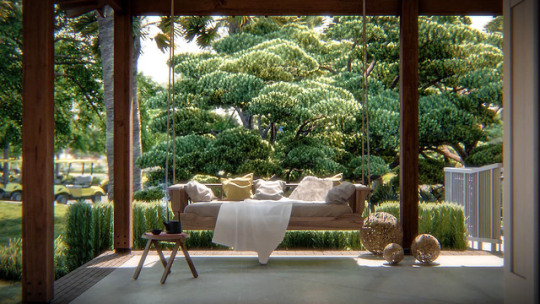 Porch swing at Carolina Pines, by TEN OVER MEDIA.
"If you can do it in real life, you can most likely do it Lumion, and if you can't do it in real life, you can most likely do it in Lumion."
Thanks to Mathieu Anfosso and the entire TEN OVER MEDIA team for the interview!