Are you a fully qualified, technically switched-on Architect, or a recent graduate or perhaps an intern with good ideas? Whatever your role, have you come to understand the value that Lumion should be adding to your Company's design processes but are having trouble convincing the boss? If so, read on…
Your Principal has to manage the business and weigh up the value of investment choices. He or she is probably a busy person, visiting potential clients, taking care of the next project and meeting deadlines. How do you get their attention? Aside from letting him or her watch the demo-reel above and telling them 'do you know that we can make this kind of fly-through ourselves!', the 5 points below might help your Principal see the business benefits of Lumion.
1. Lumion enables you to deliver a 'wow' factor to your clients.  Every time you meet with your client, you will have an updated portfolio of renders to show them. Rendering is so fast with Lumion that you can even turn up every time with a new animation, if you so wish. Why not show them their design in VR? The combination will blow the minds of your clients. An immersive experience in their not-yet-built building is something they probably never would have dreamed of. The service you offer to clients will be on a different level.
2. You design better buildings with Lumion. It's a big claim but Lumion users tell us time and again that it's true. The iterative process of tweaking your 3D model (e.g. in Revit or SketchUp) and reloading into Lumon is super-simple. You can do this 100 times or more per project until you get your design exactly the way you want it. You can involve your client any time too and use their feedback to iterate towards perfection. The quality of communication with your client will be on a new level and your results and client satisfaction will benefit from that.
3. Lumion enables a more efficient design process. Designers spend their time designing and not waiting around. See this HKS case study, which shows how they use Lumion to double their design productivity.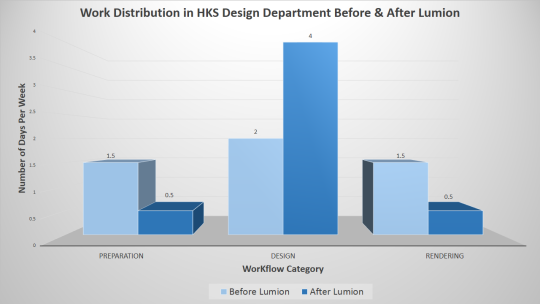 Above: Workflow change through Lumion at HKS Architects 
4. Lumion reduces your costs. Lumion is so easy to pick up that no-one needs a formal training course to learn the basics – No training costs. People get better as they practice. All Designers can do their own rendering – No costs of outsourcing your visualization to China, Brazil or elsewhere. No render farm costs. If you have visualization experts in your company, they can be reserved to work only on the ultimate top-end renders; all other renders, animations and panoramas can be made by the Designers themselves. A Lumion license and a decent graphics card in your pc are the only investments required to release an ongoing business cost reduction.
5. Lumion allows small architecture firms to compete on projects which were previously out of their league. Videos, stills and 360 panoramas produced in Lumion are extremely persuasive. What you deliver during the project pitch will be way more than you were able to deliver without Lumion. You will compete with any presentation larger Architecture firms make, even when they spend huge amounts of time and money doing it. This is all possible with relatively little effort and visualization expertise. Lumion is that powerful.
Why not send a link to your Principal so they can read this article the next time she or he gets 5 minutes. It'll be a worthwhile 5 minutes! It might even transform their Architectural business.