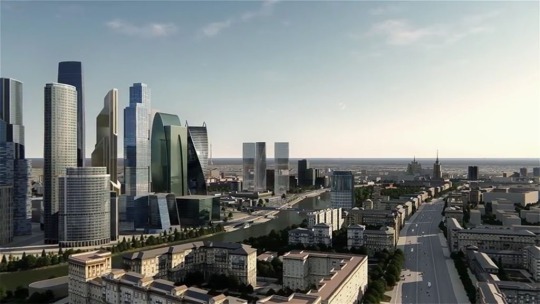 Location: Moscow, Krasnopresnenskaya embankment, property 14, bld. 1
Client: Capital Group
Stage: Design concept
Building height: 200 m
Total area: 175 000 m2
Land Plot
The main objective of the project is the creation of a new high-rise building with a full set of functions corresponding to a modern representation of a comfortable urban environment.
There are currently
indoor tennis courts
on the terrain of this former small stadium. 
Structure
The complex includes three towers on a landscaped podium focused on the Crimean Shaft axis. All towers have a height of 200m. The podium brings together the public spaces of the complex with walking routes linking the "Moscow city" with the historical Park "Krasnaya Presnya".
The function of the complex
Housing, offices, public and commercial space.
Scene info
Created in Lumion 6.0.1
Time to develop: 3 months
Modeling: ArchiCad, SketchUp, Blender
Total scene size 2.5 gb + 14000 trees and more people+cars.