By Stack Rock Group, Boise, Idaho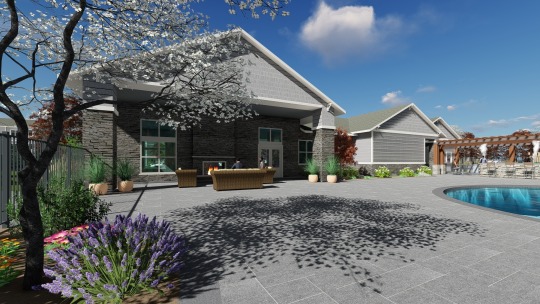 An Upscale Multi-Family Project in Meridian, Idaho
Project Clients: 
David Ruby, AIA, LEED AP
The Architects Office
Tami Greene, The Franklin at Ten Mile
About the project: 
Trevor Ball from Stack Rock Group:
"The goal for the design was to create an upscale multi-family development. Utilizing SketchUp and Lumion we were able to collaborate with the owner and the architect to quickly and efficiently develop the design, perform a color study for the City of Meridian and help the owners successfully market the project. Due to the images and the rendered video, incorporated into their marketing materials, the project was sold out months before construction was complete.
For this project I built a SketchUp model of the club house and 6 apartment buildings based on the architect's 2D floor plans and elevations. I then built the site including topography, entryways, pool, outdoor structures and all landscape elements. I then built the interiors of the clubhouse and a few of the apartment units. Once everything was built I rendered the entire project in Lumion. Total time for 3D modeling in SketchUp and rendering with Lumion was two weeks.

From start to finish this was an extremely fun project. We really utilized the design process and collaboratively created a great design for the owner. Lumion is an invaluable tool for our business and becoming an increasingly important piece of what we do. It gives us the ability to help owners and architects visualize their projects, develop designs and effectively market their projects."