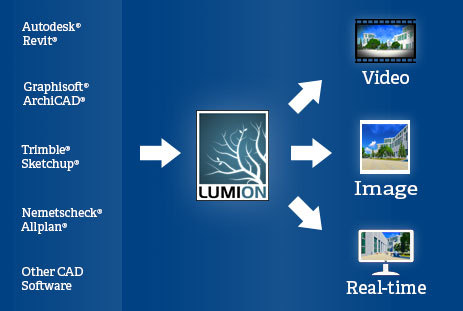 No man is an island. That's what John Donne wrote in a poem way back in the 16th century. You could write something similar about software for architecture in the 21st century. In these days of BIM, big data and connectedness, software packages need to work well with each other. Project ideas change fast, designs change fast, the data needs to keep up and so does communication between project stakeholders. Communication means visualization – the visual communication of design ideas.
Smooth process
Achieving a smooth, iterative process of design >> communicating >> reviewing >> re-designing, often requires multiple software packages and they all need to seamlessly interface with each other.
Maintaining glitch-free connectedness and communication is a challenge and is a central subject in the BIM concept, which uses the IFC file format, although this is not yet a perfected format for all the functions demanded of it. In the meantime, other high performing standard data formats are available and are recognised by the various software packages. Lumion makes its contribution by being compatible with all of the best and most modern forms of 3D file standards. These include .DAE (Collada), .FBX, .SKP and many more. In effect, this means that Lumion is compatible with all of the major 3D CAD programs currently available to Architects and Designers around the world.
Autodesk Revit
Lumion has a dedicated plug-in for Autodesk Revit that allows any Revit user to save a Collada (.DAE) file, which uploads perfectly into Lumion. You can download the plug-in here. This plug-in allows you to save your 3D model in a format that Lumion can directly read. After installation of the plug-in, it is available in Revit's default 3D view via Add-ins tab -> External tools -> Revit to Lumion Bridge.
Graphisoft Archicad
Likewise, if you use ArchiCAD, there is a similar bridge to Lumion available here. You can also find a tutorial video showing how to use it in ArchiCAD.
Trimble SketchUp
SketchUp's native export file is .SKP format. This works very well with Lumion on its own, so you don't need a dedicated exporter. Click here if you are wondering how to save your file in SketchUp and import into Lumion.
COLLADA
There is also a Collada file exporter in Vectorworks, which works very well with Lumion. Click here to find out how to do it. And to list just a few more, Lumion will also readily import files saved by Bentley Microstation, Rhino, Allplan and 3DS Max.
Quickly reload changed models
Another useful function in Lumion is the reload button, sometimes called the model update button. As one Lumion customersaid "The reload button is perhaps Lumion's best-kept secret". If you build your scene around your model in Lumion and then realise that your original model needs to be adjusted, then the reload button is your saviour.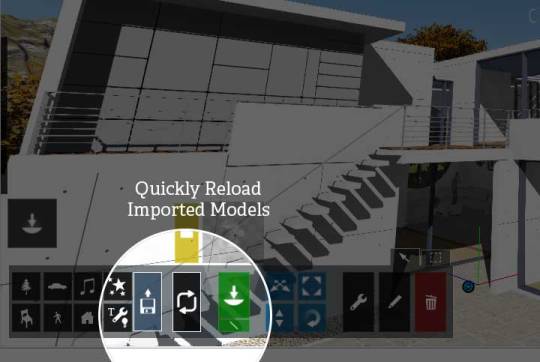 Simply adjust your model in your author software, re-save it in the same file location, with the same filename and then click on the reload button in Lumion, to automatically upload your new model into your Lumion scene. This is a great feature because it allows you to build your scene in Lumion, fly around your design and if you spot anything that doesn't look right, or maybe you just forgot to add the doorknobs, you can just fix it in SketchUp, Revit or your chosen 3D modelling software and reload. No time lost and no need to re-do anything.
No man is an island, Lumion isn't either, though you can import an island into Lumion, should you so desire!