The Mass Move function is a very powerful tool in Lumion 6 that allows you to create complex and curvy animation paths for people and cars. 
Chris Welton has put together a series of 5 tutorials which show you how to build a scene with complex traffic flow like the roundabout below. This technique can be really useful in building large, realistic city traffic scenes in Lumion.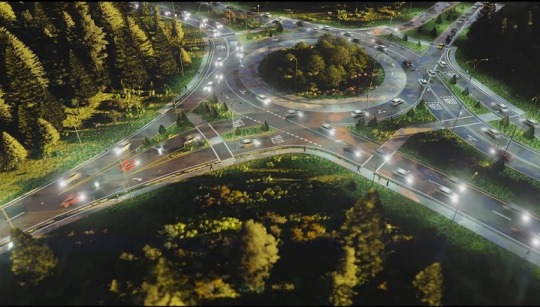 The first tutorial gives you an introduction to the mass move functionality and how to use it.
In Part 2, Chris uses the example of a roadworks in a built-up area and sets up the traffic flow.
Having set up the traffic, Part 3 of the tutorial series refines the traffic movement in the roadworks project, to get it looking more realistic.
The fourth short tutorial shows how to set up the roundabout project shown in the example above.
The final tutorial refines the traffic movement in the roundabout example and gets the traffic moving smoothly and looking good.
Don't forget to check out Michael Brightman's excellent Mass Move Tutorial about applying mass move to people and cars in other situations, or the many other tutorials available on the Lumion website.