The phrase 'Lumion is easy' gets thrown around but somehow seems inadequate in conveying the degree to which Lumion improves on other visualization software. Mostly because there are so many aspects to the phenomenon 'easy'. Find out what is really meant when people say 'Lumion is easy'.
'Easy' is a word that can have many meanings in the software context. Related to Lumion it means
Easy to learn
Easy to use
Easy to achieve results because the product is fast and functional
Easy to do things, traditionally seen as difficult, laborious or impossible
To some people, the word 'easy' carries negative implications: "It's easy so it can't be good!" or "it's easy so it must be for amateurs".
Let us be reassured that Lumion is a tool for professionals!
Lumion is often described as 'easy' because it possesses all the positive characteristics just mentioned while at the same time being extremely powerful, fast and of high quality. It is 3D visualization software suitable for the highest level of professional architectural presentations. Perhaps you wouldn't normally expect such easy software to be a highly powerful tool, at the cutting edge of delivering what Architects, Designers and other AEC professionals need in order to visualize their creations. But to be blunt, Lumion is full of jaw-dropping surprises.
So, to understand the ease of Lumion better, here are some pointers about what it does and what exactly is so easy about it.
Easy to Learn
Simply watching this 8 minute overview tutorial is enough to get you started with Lumion!
For anyone who has played a video game, using a computer, and has flown around in a game world,navigation in Lumion is a piece of cake because flying around in Lumion uses exactly the same few keys on your computer keyboard. For those who haven't played computer games, learning to navigate with the user interface of Lumion will take just a few minutes of practice. In one afternoon you can learn by yourself to make visualizations of your designs.
Similarly, importing your 3D CAD model is fast and easy, and the same is true of placing content like objects, trees, people and cars. Visualizing with Lumion happens in real time. Creating a camera pathand rendering a video are simple and intuitive tasks and can be done with just a few clicks.
There are about 160 short and sweet visual tutorials in total covering all the functionality of Lumion. Each one lasts 1 or 2 minutes and is a click away from the Lumion website homepage Lumion3d.com. These can be dipped into at any moment and you can even link directly to them from the Lumion program itself.
To help you while you are busy with a project, the Lumion Forum is the place where users talk to each other, sharing best practices, examples of their work, tips and tricks and this is where Lumion staff advise customers 24/7.
Easy to Use
Some software looks more complicated than the cockpit of a jumbo jet! Not Lumion! You will find remarkably few icons on your screen at any one moment. This makes the 'user experience' a much more intuitive affair.
You don't need to search around for what you are looking for. The experience of the Lumion programmers has selected features based on what you need, at exactly the moment you need it. This comes from 15 years of designing intuitive software and understanding the user workflow. 'The biggest challenge in creating Lumion was to make complicated technology easy,' says Ferry Marcellis, CEO of Lumion.
Once you've learned the basic icons, everything becomes very intuitive. No need to punch in numbers or make difficult decisions, just click icons, drag sliders and make simple choices.
Look at the screenshots below for typical examples of how simple and uncluttered the Lumion screen looks.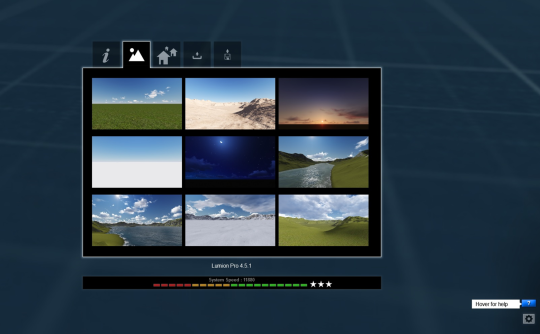 In Lumion, the interface always presents you with simple choices. No numbers to type in, no clutter and no difficult decisions. Look below at a typical screenshot which will see during your scene-building.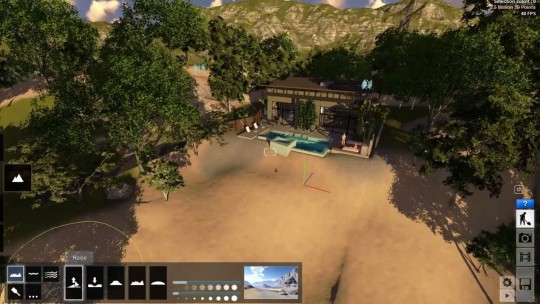 Easy to achieve results because of speed and functionality
From the moment you click your Lumion icon in Windows, you start a very simple, fast and fun journey towards your beautifully rendered images and movies.
Just select one of the nine scenes on the start screen (see earlier screenshot). Then import your model from where you saved it. Maybe you made this in Revit or SketchUp, ArchiCAD, Allplan or another 3D CAD program but whichever it was, importing takes just a click or two and happens in seconds. Placing your 3D model in your scene is achieved with one click.Then you will probably start to shape your terrain by making hills or valleys, painting the landscape, adding water and objects like trees, people, plants, cars and animals. You will probably want to change the time of day, adjust the sky and you will likely need to change and refine the materials used in your model by adding glass, wood, and lots of other materials. All of this is done with simple clicks on highly visual and intuitive icons. The process happens quickly and smoothly. No fuss, no headaches. You can add as much as you like and keep going without any limitations placed by Lumion, until you feel satisfied that your scene is just right.
Once your scene has been built, maybe you're completely happy with it or maybe you think… 'Yikes… I forgot to put the handles on the doors in my model!' No problem! Just go back into your model, change it, re-save the file and then go back into your Lumion scene and click the reload button. Miraculously, and with just this one click, your door knobs will appear in Lumion too. No need to re-build your scene and no lost work! And of course it doesn't only work for door knobs… it works for any geometric aspect of your model 😉
When you like your scene, you are ready to make your images or animations. These processes are also very simple. You can add effects as you go. No need to wait to see the results, the effects are visible in real-time. While you're making your images or animations, it might occur to you to add something new to your scene or change your model further. That's no problem. Just make the single click to change back to the 'build mode' and make any changes you want. These will immediately become visible in your animation or any still image you subsequently make.
Taking a photo is easy. Click on the photo icon, then move around your scene to find the right viewpoint and then click the 'save' button. A few seconds later you will have a fully-rendered image. If you don't like it, delete it and take another one. This time, if you like, take the picture from a different viewpoint with some effects added, like the sketch, bloom or paint effects, for example. You will see all the effects appear in real time as you add them and you can delete them just as quickly. Click render and again, a few seconds later you will have another image. It's hardly possible for it to be easier or faster than that.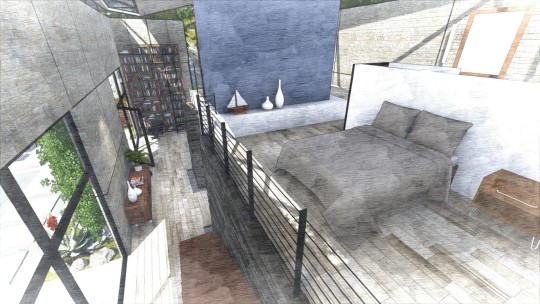 Making a video starts by clicking on the icon on the right, which looks like a piece of film strip. Move around your scene to create a 'camera path' and click to take photo snaps as you go. Lumion will fill in the gaps with a smooth path, between your snaps. You can play back the camera path at any time, so you can get real-time feedback of what your movie looks like. If you're not happy with it, change it until you are.
Adding effects to videos is as easy as adding effects to photos and they are of course added and deleted with the results visible in real time. Having immediate feedback like this, makes life very easy and helps you to perfect what you do by iterating, using trial and error, towards something that you are completely happy with, before taking any time to render the final quality movie. So that when you render the final quality movie, it's always exactly what you want! In any case, Lumion is the fastest rendering application of architectural animations in the world. It's also faster than the cloud. So even if you do need to render again, in Lumion it's a breeze.
Gone are the days of waiting a week for a render! With Lumion, animations are fully rendered typically within a couple of hours or even within minutes, depending on the complexity and size of your animation, the quality level you choose to render and the speed of the graphics card in your computer. No need to render in the cloud and pay the costs associated with that. Make as many renders within Lumion as you like, for free.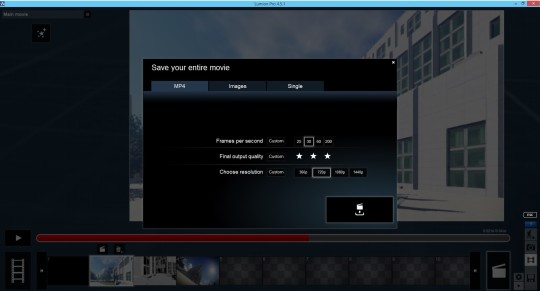 Easy to do things, traditionally seen as difficult, laborious or impossible
Want to add lights? As many as you want without affecting performance? Or maybe trees? How about 20,000 trees in your scene? Or people, objects, animals? How about uploading a huge model of say 2GB? All of this is possible with just a few clicks.
Maybe you'd like to add artistic effects, for example to make your image look like a sketch? One click and adjust the sliders until you like what you see. Or add snow, to create a winter scene? Or add realistic looking grass which blows in the wind, or even trees with autumn colours and leaves that fall to the ground. Maybe you want your cars to drive along, your people to walk and birds to fly? It's even super-simple to make your people and cars go around corners! Perhaps a beach scene with a beautiful oceanand palm trees swaying in the breeze? These are just a few of the features available with a few simple mouse-clicks. Nothing difficult, no complicated settings to adjust and everything intuitively easy to find. It's as easy for a beginner as it is for an expert. These features in Lumion are like plug-and-play equipment. Nothing to worry about, just click and it happens.
Changing the atmosphere by adding rain or fog (or any other kind of weather!) is also simple and playing artistic games with motion blur, lens flare or animated depth-of-field is equally effortless!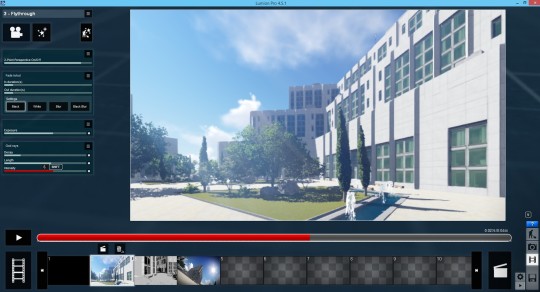 I've just picked out some examples in this article to provide a feel for what's possible but there's an almost unlimited combination of things you can do to get what you want. And the greatest thing of all, is that you'll get the hang of it in no time because it's all so intuitive and EASY! It's not just easy… it's a lot of fun.
As Erik Varvel of Clark Patterson Lee said, "Lumion is so easy, it feels like cheating!" and Rob Terry of VOA said "the ease with which you can add almost an unlimited amount of trees and plants is amazing".
Trying is believing! If you haven't done so yet, then prepare for your jaw to be dropped!
Buy Lumion
Lumion Product Information
Lumion Website
Lumion Customer Experiences