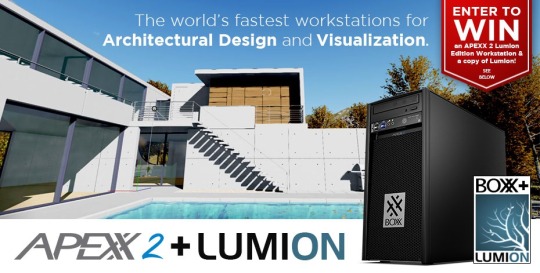 In order to win a BOXX computer and Lumion software you just have to click the link below and fill in the form. Winning has never been so easy!
https://www.boxxtech.com/landing-pages/lumion-edition-workstations
Boxx offers tailormade solutions for those who want to run a CAD program and Lumion and get the most out of their hardware and software. If your workstation needs to accommodate CAD tools like Revit in addition to Lumion, your options at BOXX are:
Use a Quadro M4000 or greater for both Revit and Lumion, but be aware that this will increase the cost of your workstation.
Use a GeForce for both Revit and Lumion. Revit uses a DirectX viewport, so GeForce will work fine in most cases. The only downside is that you won't be running on the Quadro's certified drivers and support will be limited.
Use both a Quadro and GeForce in the same workstation with each card driving a separate monitor. This will allow you to use the GeForce for Lumion only and the Quadro for Revit only. No need for an expensive Quadro in this scenario because it is only being used for Revit where a Quadro K2200 is adequate.
Act-3D, makers of Lumion recommend to use the Nvidia GeForce 980ti (M for laptops) on a BOXX workstation or laptop to run Lumion. Render times between the Nvidia Quadro M4000 and Nvidia GeForce 980ti show that the render times twice as fast! The 980ti is the best choice in terms of price/performance.