Did you recently download Lumion 10 rendering software and you want to get off to a flying start? Check out these 6 steps to quickly show your exteriors, interiors, landscapes and other designs as beautiful, compelling images, videos and 360 panoramas.
Lumion 10 aims to drastically reduce the amount of time it takes to learn the software and create beautiful renderings of your designs. With intuitive controls, thousands of in-program models and materials to quickly build your project's context (interiors and exteriors), and easily customizable effects to show your designs exactly how you imagined, Lumion can streamline your rendering workflows so that you can quickly, and effectively, show your designs in their best possible light.
So if you've recently downloaded Lumion 10 or the Lumion trial, here are 6 steps to get you off to a flying start.
One brief note about Lumion's hardware requirements
If this is your first time using Lumion, the first thing Lumion will do is benchmark your PC or laptop computer's hardware for performance. This is because Lumion requires a fast computer with a high-end video graphics card to ensure a smooth, fast experience when working on your rendering project.
Step 1: Learn the basic workflow to make a render in 3 minutes
Short on time? If you need the quickest workflow to go from importing a 3D model to creating a beautiful image, then the following video is the ideal starting point.
In this basic workflow tutorial, you'll discover a five-step system to create photorealistic renders in just a few minutes. The system includes 1) selecting a 3D model, 2) selecting a template, 3) creating images, 4) adjusting styles and 5) rendering images.
Step 2: Learn how to control the Lumion camera
After learning the basic workflow, the next step is to start putting it into practice, which means spending about five minutes learning how to move around in the Lumion editor space.
The main navigation controls include:
– Press 'A' to move left
– Press 'D' to move right
– Press 'Q' to move up
– Press 'E' to move down
– Press 'W' to move forward
– Press 'S' to move backward
– Look around with the right mouse button
– Pan with the middle mouse button
– Orbit around your project by pressing the 'O' key
– Double click the right mouse button to instantly move to a spot
Step 3: Import your 3D model or set up a real-time sync
Once you're able to easily navigate the Lumion Build Mode, it's time to import the 3D model of your design. Because Lumion is compatible with most 3D modeling and CAD software programs, as well as the major 3D file types, importing takes just a few minutes.
In the video below, you learn everything there is to know about importing models into Lumion.
For more information about importing a 3D model, check out the model import guides to find the right workflow for your software and in-office processes.
In addition to importing your 3D model, you can also set up a live, real-time connection between your modeling software and Lumion with the LiveSync feature.
LiveSync enables you to develop your design and 3D model while simultaneously visualizing your design complete with materials, context, accurate lighting and shadows and more. Modify the model in your modeling software, and the model in Lumion will automatically update.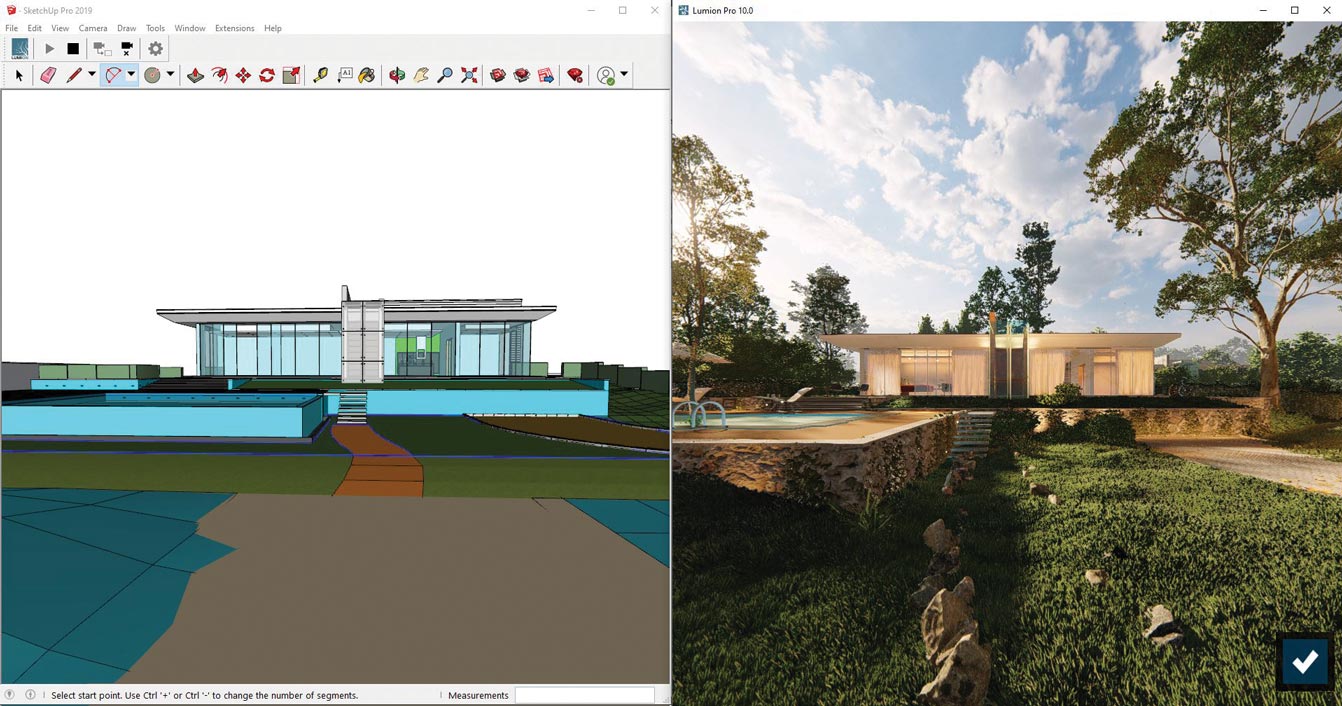 Step 4: Build the context around your design
You've either imported your 3D model or created a real-time connection with Lumion LiveSync. The next step is to build the necessary context for showing your model in a realistic or conceptual environment. In the Lumion Build Mode, you can find over 5,600+ models for building detailed and picturesque nature views, creating lived-in exterior and interior spaces, and showing cities bustling with life and energy.
In the following tutorial, you'll take an in-depth look at one of Lumion 10 Pro's new features, fine-detail nature, and discover how to create realistic, beautiful forests and natural environments.
Make sure to explore all the different possibilities in the Lumion Build Mode. For example, you can change the weather and view your project under Real Skies. By clicking on the 'Landscape' tab, you can change the look of the terrain, sculpt elements found in nature (hills, mountains, lakes, valleys, etc) and import building-height and elevation data with OpenStreetMaps and Heightmaps. For more information on Lumion's Build Mode, check out the Knowledge Base articles.
Step 5: Apply materials and adjust their settings
Materials and textures make buildings come alive, giving them a realistic look while providing a sense of familiarity. And in Lumion 10, you can find over 1,200+ beautiful, customizable materials, including concrete, brick, wood, stone, fabric, glass, water and more. 
After applying a material, you can adjust that material's color, glossiness, reflectivity, relief, weathering, map scale, normal map and more. You can soften the edges with the Edges slider and add foliage, and you can even utilize 167 materials with displacement mapping to further enhance the depth and realism of the project's materials.
Check out the video below for a crash course in adding materials in Lumion.
Step 6: Create stunning still images, animations and panoramas with all the effects that your imagination can dream up.
You've imported your model, built the project's context and added materials. The final step is to open Lumion's Photo Mode, Movie Mode or Panorama Mode so that you can start crafting a stylistic, compelling image, video or 360 panorama.
The easiest way to start creating a realistic or conceptual image is to use one of the Lumion Styles, which are pre-configured effect stacks designed to give you a jumping-off point for customizing your render's look and feel.
After adding a Style, spend some time going through Lumion's Sun, Weather, Sky, Camera, Animation, Artistic and Advanced effects. Try out some effects that interest you, but pay close attention to the Sky Light, Real Skies and Shadow effects as they play a major role in creating depth and realism.
Once you've found the right combination of effects, you can create three types of outputs, including: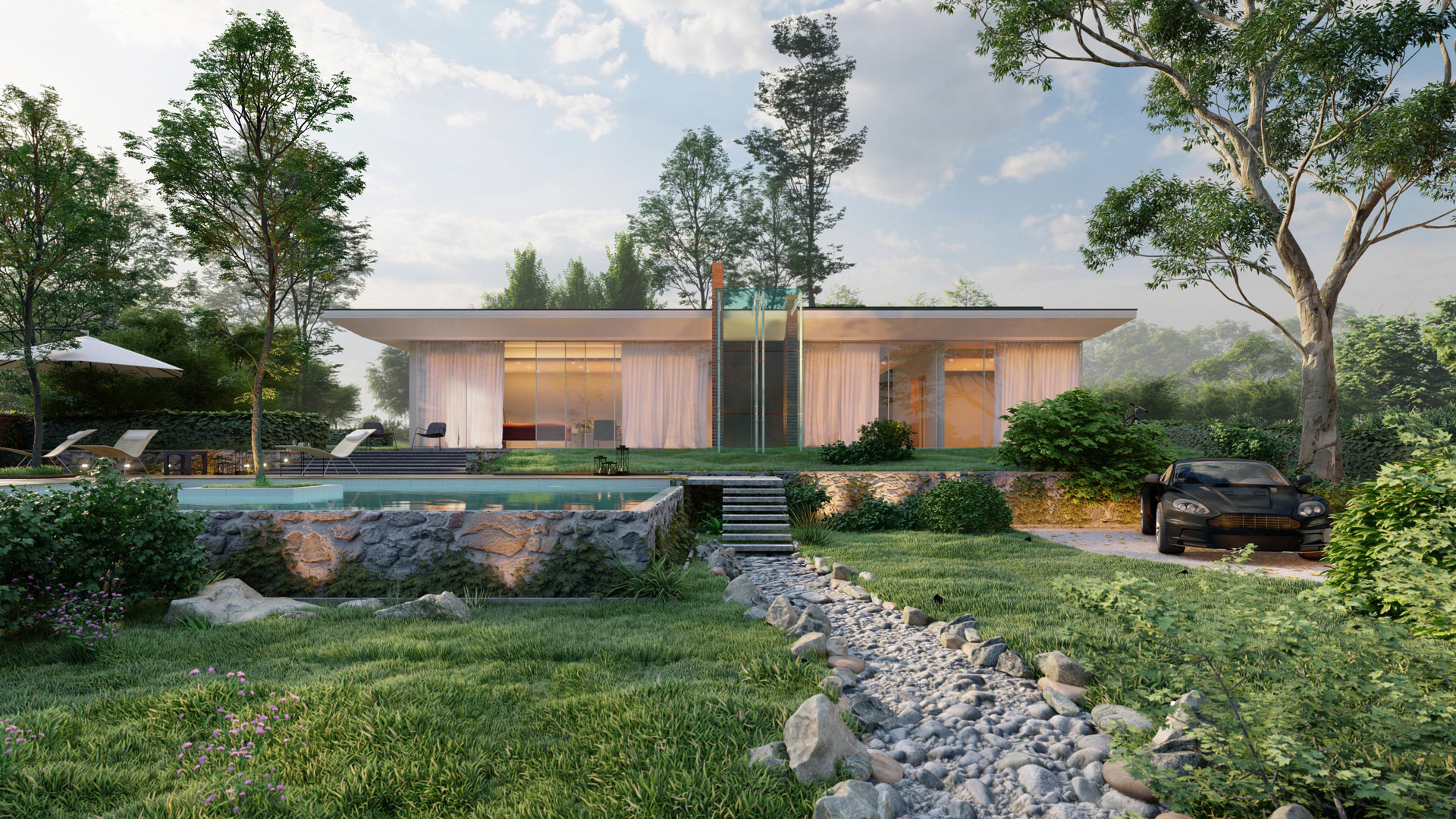 Develop your skills for faster rendering with beautiful results