Quicken the render editing process with visually enriched previews. Show stunning environments with fine-detail nature models. And make the surfaces of your model come alive with displacement mapping.
Lumion 10 was released one week ago with a wonderful response coming from the Lumion community, and many of the new features received a fair share of positive attention as well.
From the new high-quality preview effect that lets you quickly see a beautiful, light-infused view of your project, to fine-detail nature and displacement mapping that brings context and surfaces to life, Lumion 10 aims to reduce the effort needed on your side to make beautiful renderings.
In this blog post, you'll explore three of the new features in Lumion 10, including:
High-quality previews
Fine-detail nature models
Displacement mapping
Including feature videos, tutorials and more, you can learn more about how these three features can help enhance the rendering process. To see everything that Lumion 10 has to offer, check out the features list on the 'What's new' page.
Lumion makes it possible for architects and designers with no 3D or CGI experience to turn their models into beautiful, captivating renderings.
But before getting to that point, it's important to leverage Lumion 10's photo and video effects to achieve the style and mood you want, from the photorealistic to the conceptual. Among Lumion's lighting and weather settings, you can find Sky Light 2, Real Skies, shadows, Hyperlight, Sky and Clouds, Precipitation, Fog, and many others.
When calibrating the effect settings to create an ideal look and feel, however, it can take many attempts and test renders to get all of the effects just right.
This is where the new high-quality preview feature can help save you from the guesswork when going through the render editing process, while giving you more confidence when setting up the lighting, weather, shadows, materials and photo compositions.
To use the new high-quality preview feature, simply choose a camera view and set up the effects in Lumion 10's Photo or Video mode. Click on the preview pane and watch as a quick lighting calculation gives you a preview of what the final render will look like.
Move the camera and the preview will reset, but once you've found a new camera position, click the editor window again to see a new preview.
If you don't want to click to see the preview, and instead create a high-quality preview automatically when you stop moving the mouse, you can turn on the "automatic" high-quality preview in your settings.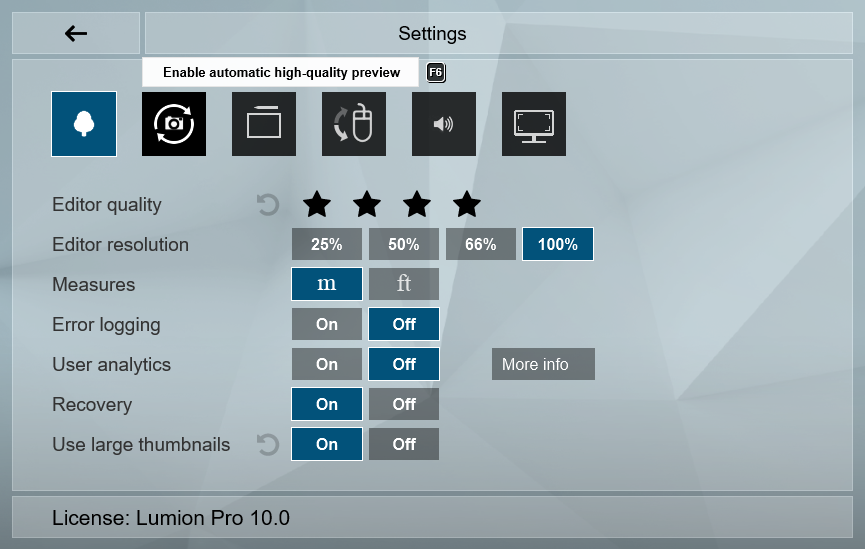 With the new high-quality preview, you have the perfect guide as you fine-tune the effects and create a stunning, beautiful result.
Fine-detail nature (Pro only)
When visualizing residential or commercial exteriors or landscape/urban designs, or showing views of the surrounding landscape from the window of an interior 3D design, Lumion's large nature library opens up more possibilities for quickly creating lifelike, living environments around your design.
You can find page after page of nature models, with more than 1,500 models (in Lumion Pro) demonstrating a wide range of species from different parts of the globe, including broadleaf, conifers, plants, flowers, leafless trees and more.
* Different nature model options in Lumion 10. Model design by Marco Caccini.
Now, in Lumion 10 Pro, you can find a new category of fine-detail nature models. Containing 62 tree and plant species, these nature models are high-polygon, finely detailed trees and plants designed for close-up views and for the foreground of your images and videos.
Among the new fine-detail nature models, you can find spruce trees, pine trees, birch trees, boxwood trees, olive trees, eucalyptus trees, agave plants and more. Place one in front of a home, building or park design, and others will see how your design connects with its living environment.
Because these new plant and tree models contain more detail the standard nature models and other trees you can find in Lumion, they will make your project heavier and can slow down the render speed. We recommend using these models sparingly, such as for that perfect image from the perfect angle.
If you need to add several of these models to your scene, but you don't want to slow down your Lumion editing speeds, consider adding the fine-detail nature models to a layer and then turning the layer off until you're ready to render.
Another big feature in Lumion 10 was the addition of displacement mapping to 167 materials. With the movement of a slider, you can adjust the depth and geometry of the selected material, giving it a realistic, three-dimensional look and feel.
By giving materials the look of 3D depth and geometry through displacement mapping, you can make all of the surfaces across your project come to life. Whether using renders for internal design reviews or sharing your project with a client, these materials can help you feel the rough texture of bark, the grain of wood, the bumpy stone of cobblestone and more.
You can find the materials with displacement mapping by looking for the materials marked the "D" in the content library.
While users cannot import their own displacement maps into Lumion at the moment, you can still take advantage of many different material types with displacement mapping baked right into the material settings.
Breathe life into 3D models and share the spirit of your design ideas
Lumion 10 aims to reduce the amount of effort required on your end to create beautiful renderings of your designs. With all of the new features, tools and content in Lumion 10, you will discover a stress-free environment to quickly breathe life into your 3D models and share the spirit of your design ideas.
To add Lumion 10 to your architectural workflows, you can order online here.