From finely detailed trees and plants to high-quality, pre-render previews and more, Lumion 10 comes packed with new features to help architects quickly and easily express their design ideas as beautiful renders. Check out what's new in the release video below.
Lumion 10 is available today, building on the tradition of making 3D rendering a stress-free part of architectural workflows.
With new features and tools, it's easier than ever to communicate residential and commercial exteriors in their richly detailed settings, cast interiors in a beautiful interplay of light and shadow, and develop living environments for landscapes and cityscapes.
Ten versions of Lumion. A decade of reliable, intuitive rendering software.
Made especially for you — the architect.
Continue reading below for an overview of new features. To see the complete feature list, head to the 'What's New' page.
A glance at new features in Lumion 10
Whether it's the new, beautifully detailed nature objects or workflow-boosting features that let you quickly fill your scene with life, Lumion 10 aims to reduce the amount of effort on your end to better communicate your design ideas and projects.
The new high-quality preview feature in Lumion 10 lets you see the highest quality preview of your project before you render it.
You can experience how the effects in Photo, Movie or Panorama mode will impact the final result, empowering confidence and saving time when making changes to lighting, shadows, materials and camera positions.
Fine-detail Nature* (Pro only)
The 62 new Fine-detail Nature models in Lumion 10 Pro are the most detail-rich, beautiful 3D tree and plant models available in the Lumion content library.
With trees, bushes, shrubs and more, these models will visually enrich your scene with life. They can help you imagine the feeling of leaves fluttering in the wind or the rough texture of bark. Place one in front of a home, building or park design, and others will see how your design connects with its living environment.
*The new Fine-detail Nature models are much richer than the standard nature models and other trees you can find in Lumion. As a result, they will make your project heavier and can slow down the render speed. We recommend using the Fine-detail Nature models sparingly. Use them for that perfect image from the perfect angle!
When surfaces contain relief and detail, the materials and your entire design come to life. With the addition of displacement mapping to 167 materials in Lumion 10, your audience will be able to feel the grain of your chosen wood, the rough surface of bricks, the bumpy texture of gravel and more.
Real Skies at night (Pro only)
When looking up at the night sky and its thousand dazzling stars, it's easy to feel a sense of wonder and beauty toward your surroundings. This is the feeling we wanted to help architects create when showing their designs, and now we're excited to introduce 5 new Real Skies at night available in Lumion 10 Pro.
In an instant, you can place your building or home under a clear, starry night or the wondrous beauty of the Milky Way. For interiors, you can show clients the experience of staring into the great expanse of space from the coziness of their future bedroom, living room, patio or kitchen.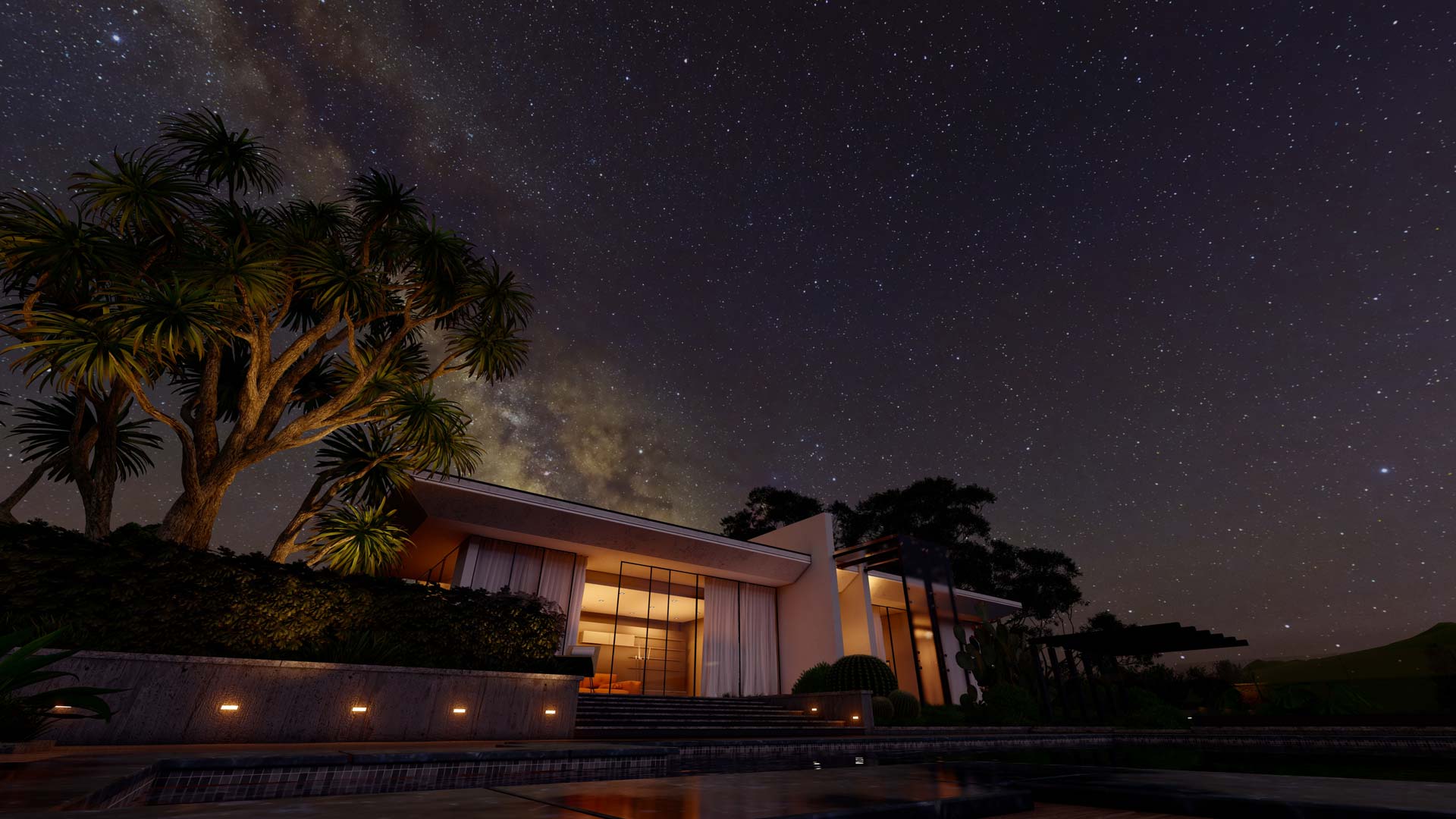 While Lumion 10 does have a variety of new effects that can visually enrich your scenes with life, you can also find new features designed to significantly improve architectural workflows. One such feature is paint placement, an object placement tool that lets you place hundreds of nature objects in your project as if you were painting on a piece of paper.
Just sweep your mouse like a brush across an area and you can scatter swathes of trees, rocks and shrubs over the landscape to impart that sense of natural realism to the context surrounding your architectural design.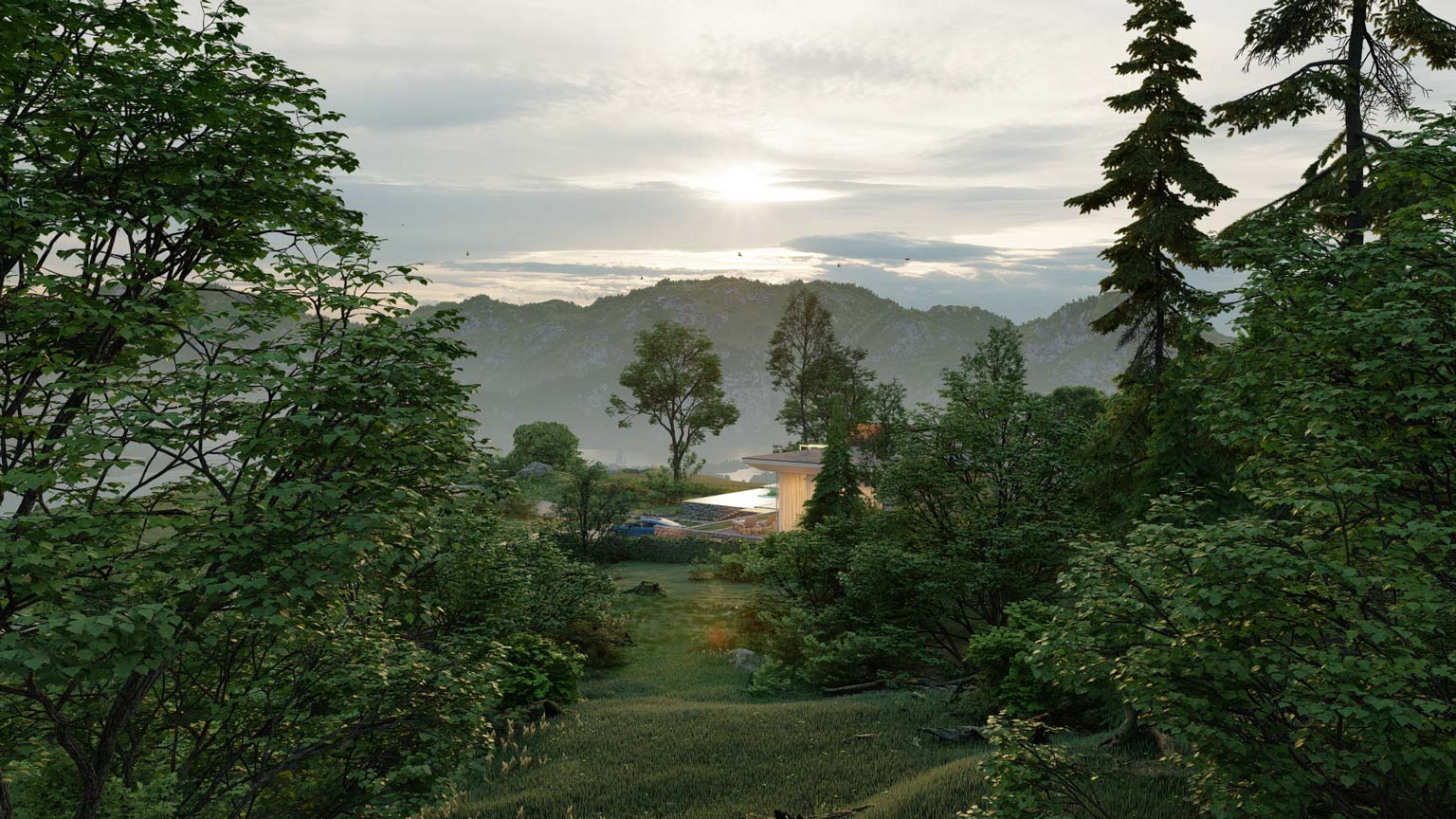 Lumion 10 also comes with Photo Matching, OSM heightmaps, new objects and materials and more. Head on over to the 'What's New' page for a full list of new features.
Take a guided tour of Lumion 10
If you have a 3D model of your design but you don't have a whole lot of time, Lumion 10 can help you bring it to life faster than most rendering programs available. 
Want to learn more about what you can do with Lumion 10? Check out the informative tutorial video by Mike Brightman.
Invite others to see the life of your designs with Lumion 10
With Lumion 10 as a part of your architectural toolbox, you'll find it easier than ever to express your design ideas and create a shared vision about how you see the evolution of your project.
Visit our buy page to add Lumion 10 to your architectural and design workflows!