Lumion is known for its ability to help architects produce compelling images and videos, but in keeping pace with growing technologies and client expectations, many firms are turning to Lumion's third output to supplement their presentations and win client trust: 360 panoramas.
With Lumion's 360 panorama mode, you can produce beautiful, 360-degree images (similar to what you would find with Google Street View) as well as immersive experiences for VR headsets such as the Oculus Go, GearVR and other VR headsets and devices.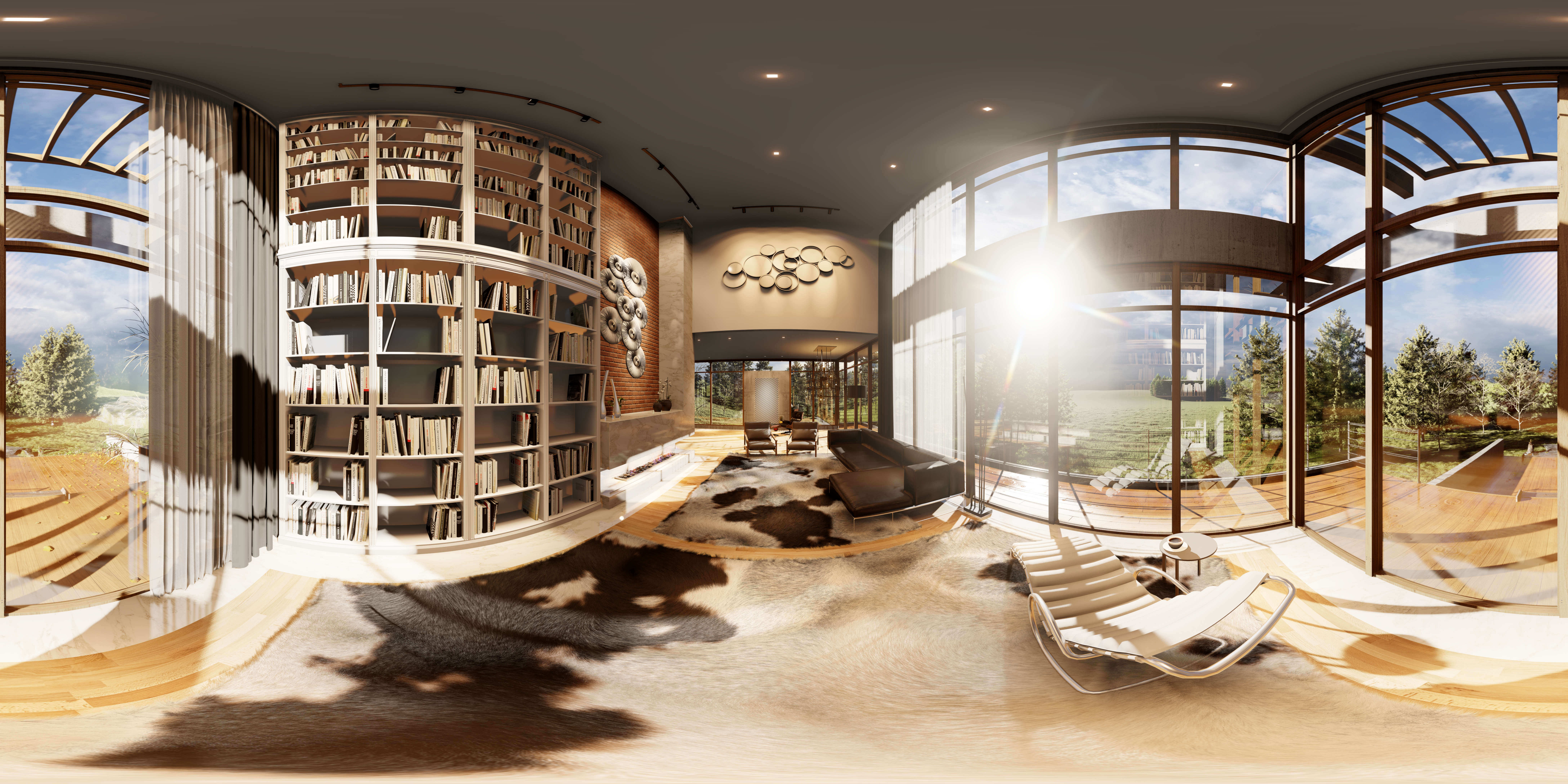 Example of a monoscopic render made in Lumion 9

Example of a stereoscopic render (cubic panorama format)
In this blog post, you'll discover the benefits of Lumion's 360 panorama mode while uncovering some useful tips and tricks to create engaging 360 panoramas and VR experiences.
What you can do with Lumion 360 panoramas
360 panoramas and VR-ready images can play a major role at all stages of the design-to-construction process.
In the early design stages, architects can view their proposed designs and concepts from within the building or scene, exploring the relationship between spaces, the impact of lighting throughout the room (during different times of the day or even during different times of the year) and the experience of proportion and scale.
Lumion's 360 panoramas and VR-ready images are available as high-quality photo bubbles. With these photo bubbles, you are able to view the space from a single location, seeing the design in a beautiful, accurate manner. By moving seamlessly from photo bubble to photo bubble, you can explore different rooms of a home design.
Tip: Click the 'eye' in the lower-right corner to enable viewpoints.
You won't be able to make full-on, dynamic VR walkthroughs in Lumion (where the client can freely walk through the design), and there is some reasoning behind this. For instance, with Lumion's method of making 360 panoramas and VR-ready photo bubbles, you can:
Maintain full control of what the client can view by specifying the exact position of the panoramas, thus allowing you to better tell your design story.
Avoid the risks commonly associated with full-on dynamic VR (customer isolation, graphics performance, quality of output, difficult technical set-up in a customer environment, possible customer sickness because of the motion within the headset)
Reduce the time it takes to make VR a part of your presentation, as you don't have to prepare and render every angle of your building. Instead, you can simply build and render the spaces that the client needs to see.
The idea is that Lumion aims to facilitate better communications between the architect and the client, not hinder it. Nevertheless, the Lumion team has a long history in VR technology, dating back to even before Lumion was developed, and we continue to research this exciting and developing area. We are carefully following both the market and hardware trends so that we can continue to develop solutions which work best in practice.
How to make 360 panoramas and VR-ready images in Lumion 9
With the Lumion 360 panorama mode, it's easy to start making beautiful, effective panoramic images and VR experiences yourself. For a complete and easy-to-follow tutorial about using the 360 panorama mode, watch the video below:
With the tutorial above, you can learn about the different panorama options, including how to make monoscopic and stereoscopic images for different use cases. But if you don't have time to watch the video above, we'll break down the two basic steps to panorama creation.
Step 1 — Choose a viewpoint and add effects
When creating a panorama in Lumion, the first step is to assign a viewpoint. Choose an area of the project you wish to render.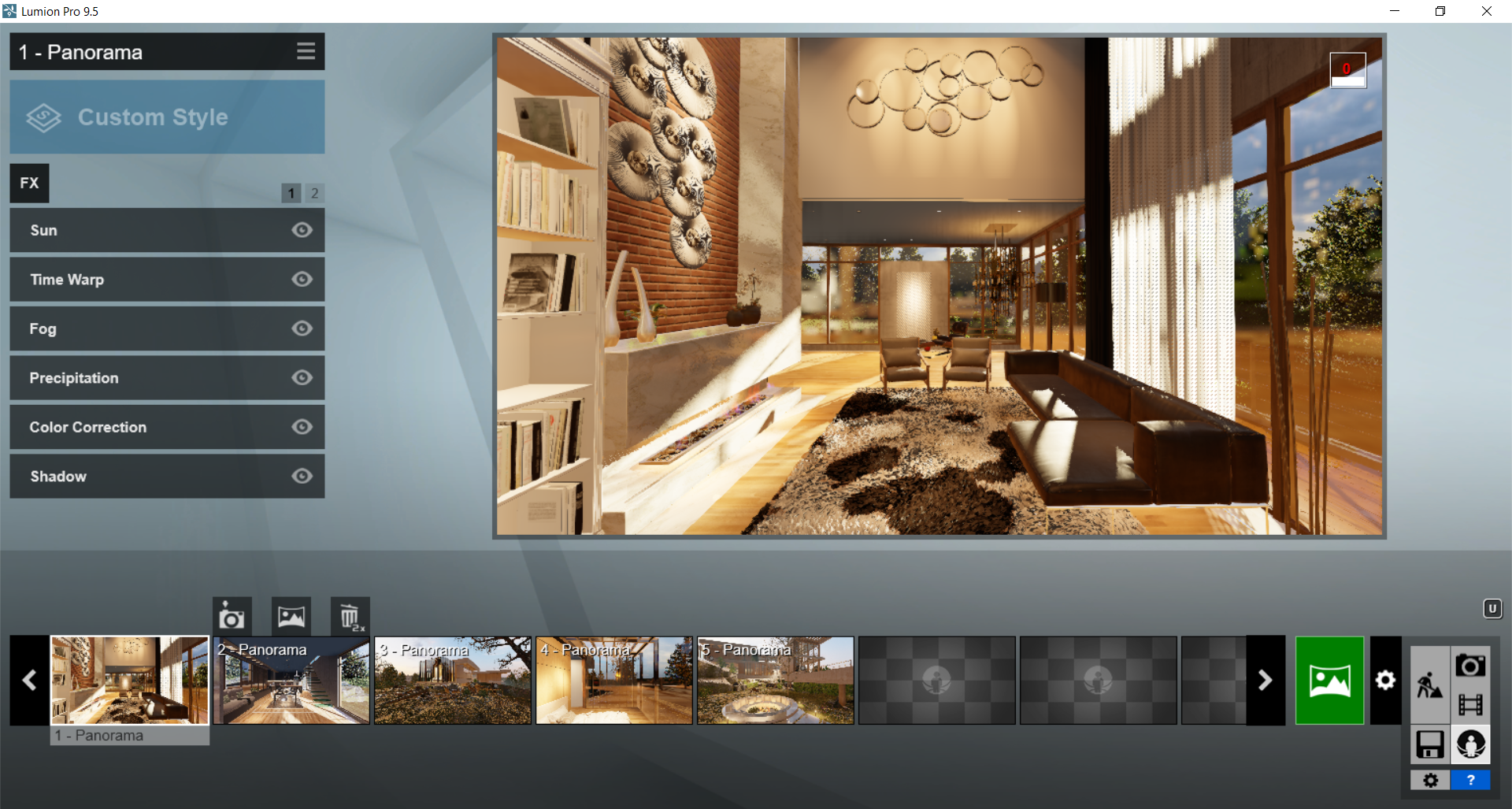 In panorama mode, you can render multiple viewpoints to show the various spaces throughout your design.
After choosing the location, you can add effects to enhance the look and feel of the panorama. Not all of the effects are available in panorama mode, but you can use effects such as the Sun, Shadow, Precipitation, Real Skies and many others. With the addition of 3D grass, you can ensure that the landscapes of your panoramas feature that crisp, realistic grass.
Step 2 — Choose the panorama render settings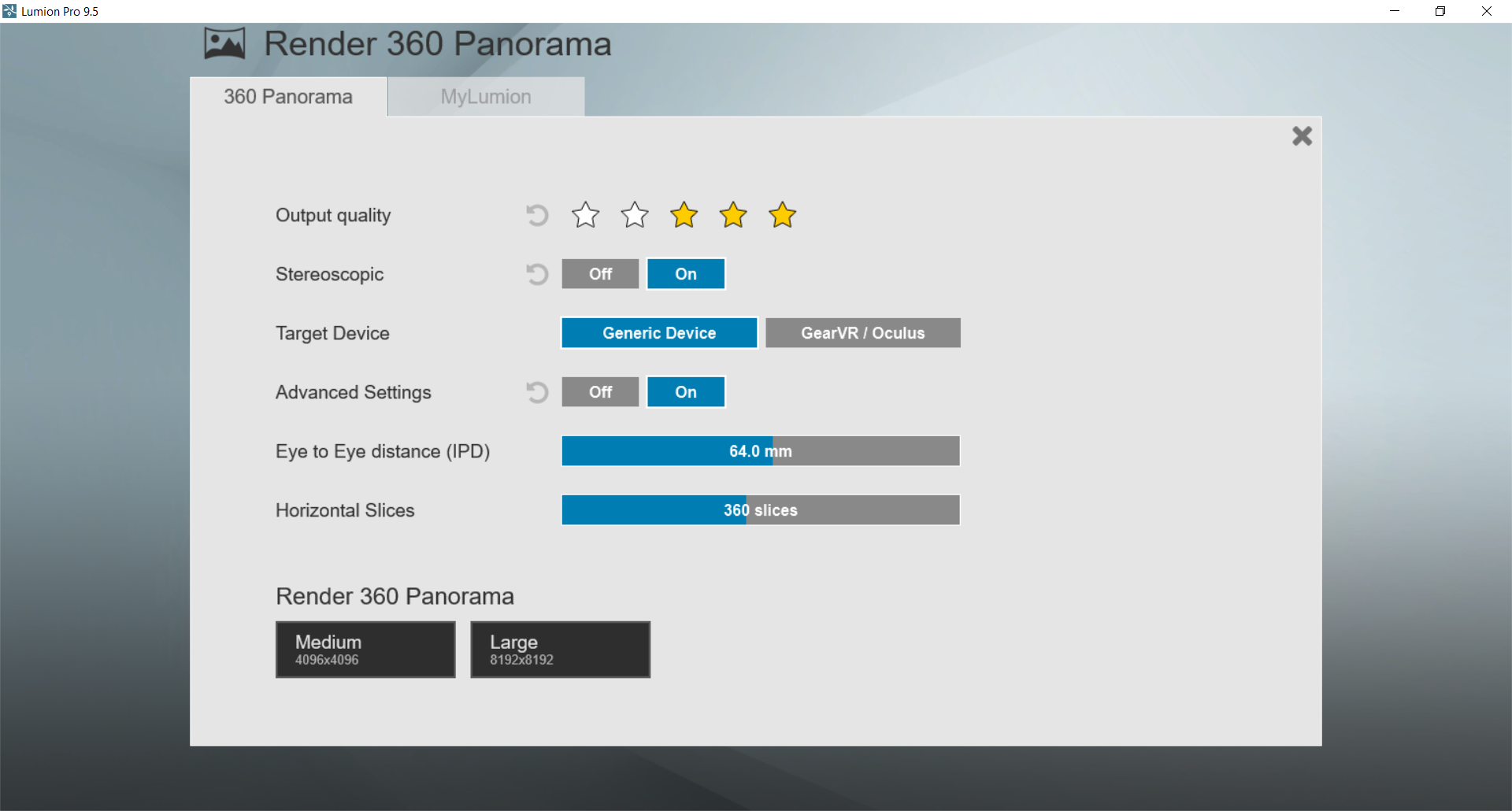 Once you've set up the panorama viewpoints and effects, you will need to customize the render output by selecting the correct settings relevant to how you plan on using the panorama.
To start, you can either hit the "Render 360 panorama" button to render a single panorama viewpoint, or you can render all of the viewpoints by selecting the green "Render all 360 panoramas" button on the right-hand side of the screen.

Next, there are multiple settings to help you define exactly how you want your render to look, and how you plan on using the render in your presentation. Keep in mind that these settings will also impact render times.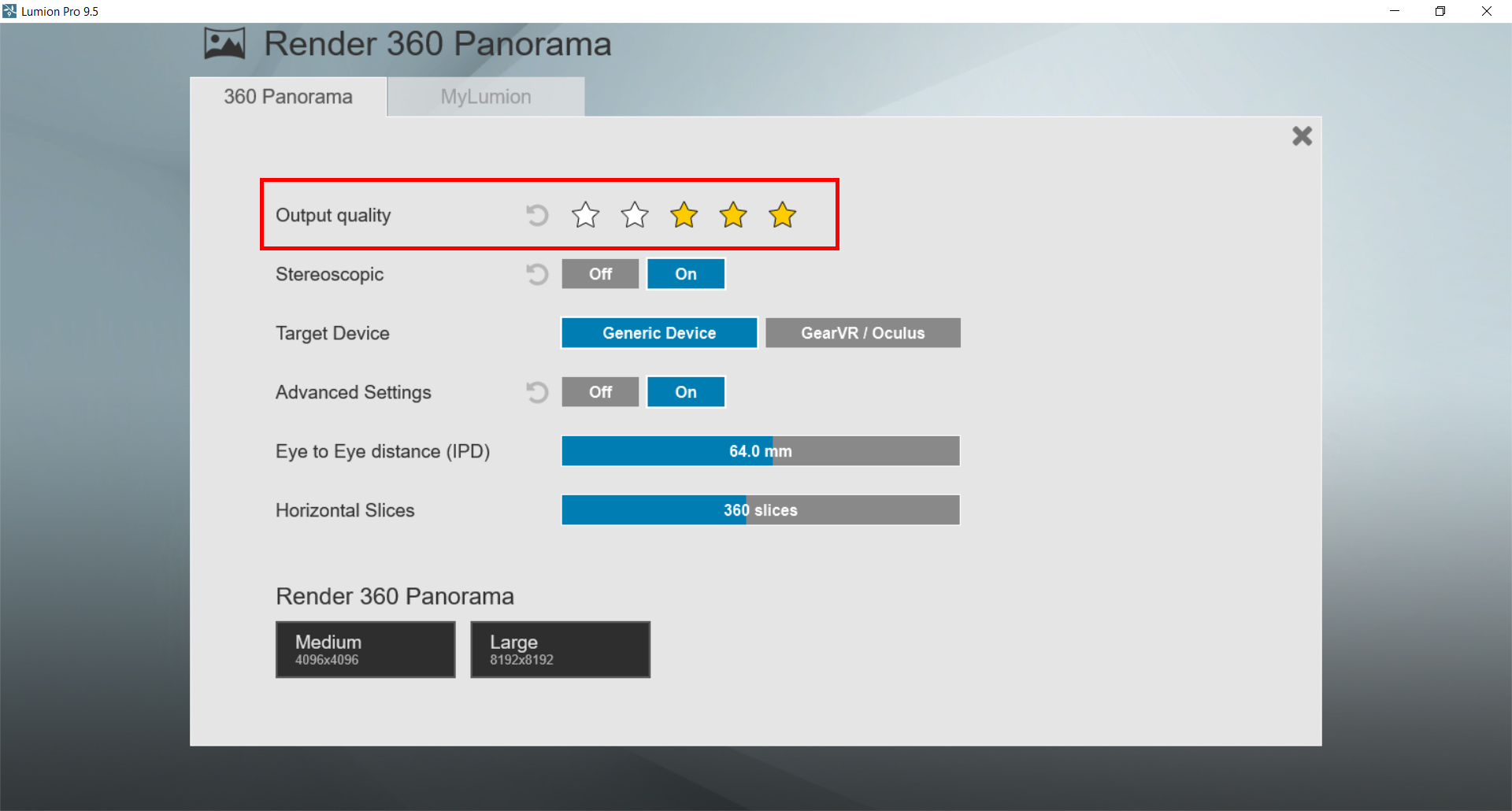 The "Output quality" setting lets you assign the quality of the render. With 5 stars, Lumion will render the image with 16x anti-aliasing but it may take a considerable amount of time.
For instance, rendering a medium-sized (4096×4096) monoscopic panorama with 5 stars (and using a laptop with an NVIDIA GeForce GTX 1080 Max-Q graphics card) took about 1 hour and 45 minutes.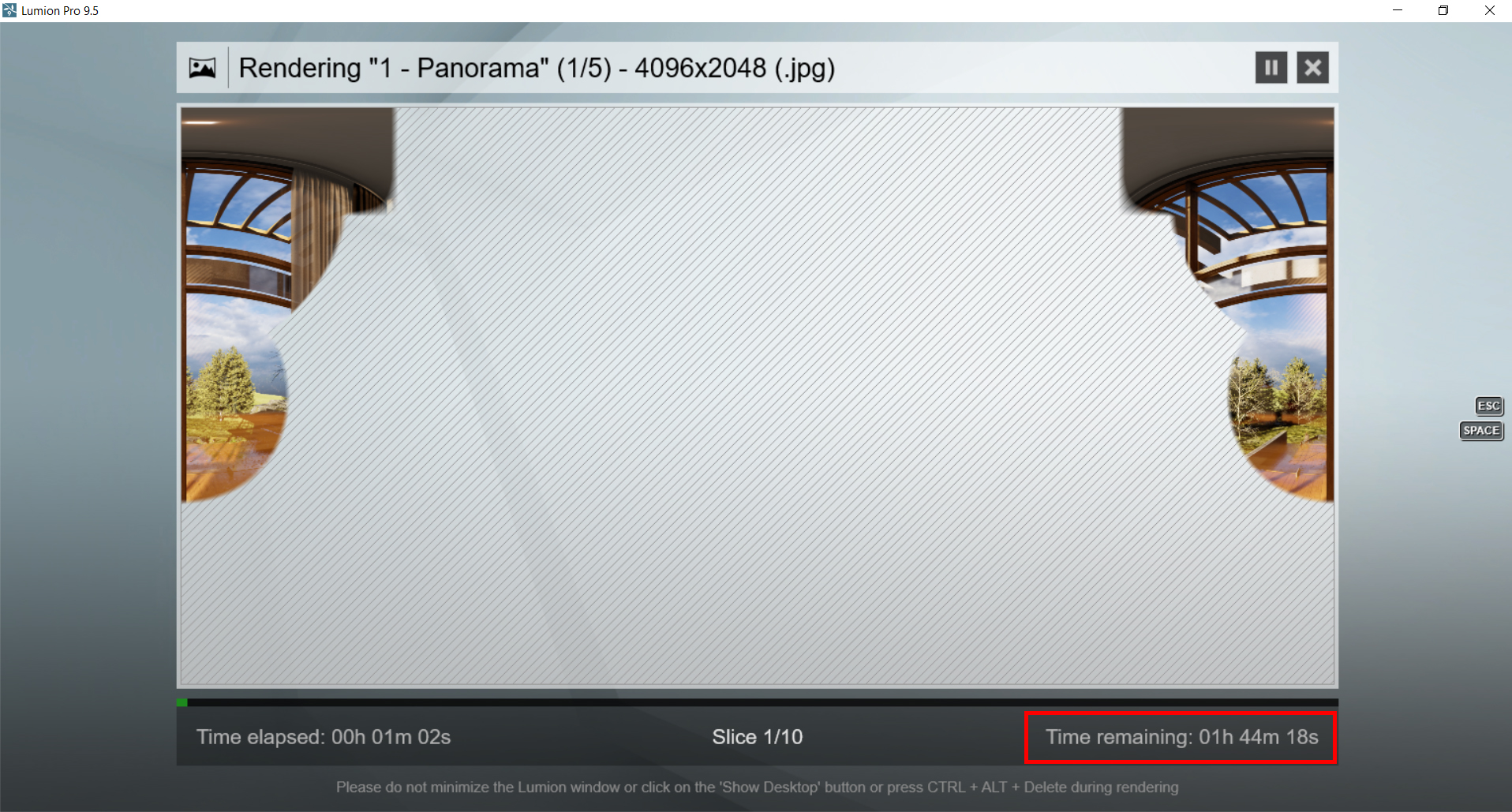 As a comparison, rendering the same image with a 3-star quality output setting took about 7 minutes.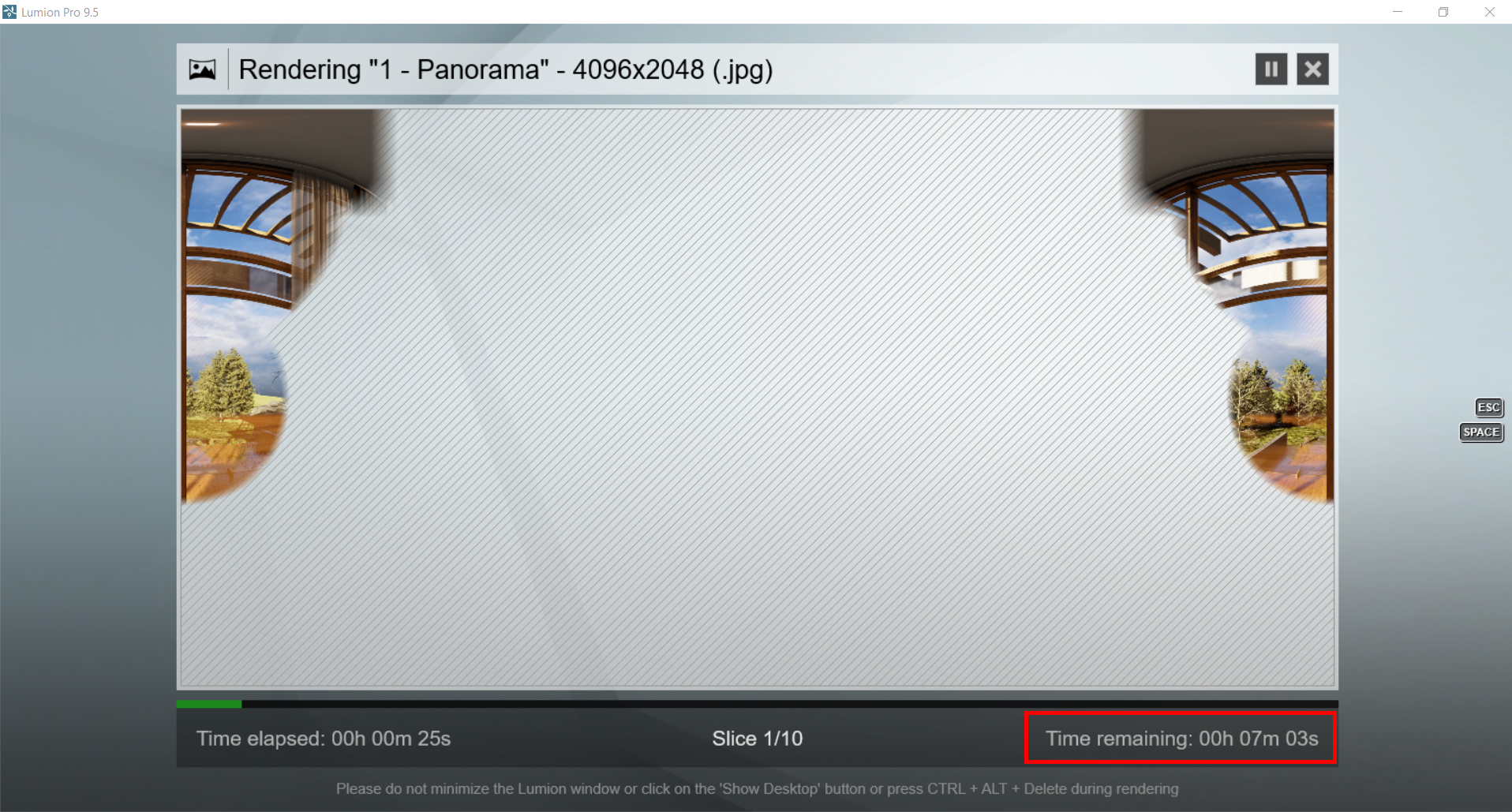 In addition to render quality, the other important render setting to consider is "Monoscopic" vs. "Stereoscopic." In short, monoscopic images render much faster and they are ideal for 360 panorama views, such as this one uploaded to MyLumion below:
A stereoscopic image, on the other hand, creates a 3D image and gives the illusion of depth, and these are ideal for uploading into a VR headset. You can see an example video below (captured from an Oculus Go):
Other important settings include: 
Target device, which features special settings for GearVR / Oculus (cubic panorama format) headsets as well as generic devices (equirectangular projection panoramas).
Eye-to-Eye distance (IPD), which measures the interpupillary distance (the distance between the centers of the pupils of the eyes) and can help configure the clarity and image sharpness for every individual.
Horizontal slices, which helps improve quality. A higher setting means a higher quality panorama, but render times will be longer.
3 tips for creating better VR experiences in Lumion 9
Want to start immersing your clients into the heart of your design? Below are three useful tips to consider when making your next 360 panorama or VR-ready image in Lumion.
1. Make sure the VR experience has a specific purpose
Before you hit the "render" button in Lumion's 360 panorama mode, take a moment and determine the specific purpose of the VR experience. Make sure you have an objective, and don't attempt to simply shoehorn VR into the presentation for a "wow" or gimmick factor.
In this panorama, you can show clients the view from the bedroom during a sunset.
Remember, VR can highlight great design, but it can also do the same for bad design. Define your intent and develop a clear vision, and you'll find that clients will be able to easily align themselves with that vision.
2. Start with small, controlled experiences in your client presentations
If you have never introduced VR in a client presentation, that's okay. You have to start somewhere. But instead of introducing VR as the focal point of the presentation, consider starting small, at least until you're more comfortable with the technology and what it can do.
For instance, in the video above, a VR panorama can be used to show clients the view from the patio. Make sure to include this panorama with other static image and video renders showing the rest of the house.
3. Help the client navigate the VR experience
As a client, viewing designs on a VR headset can be an isolating experience. He or she may be looking at a specific feature of your design, but without you to guide them and provide the necessary context, it's easy for misunderstandings to occur. By using waypoints in Lumion's 360 panorama mode, it's easy to know exactly where the client is at any moment and, therefore, you can guide their gaze.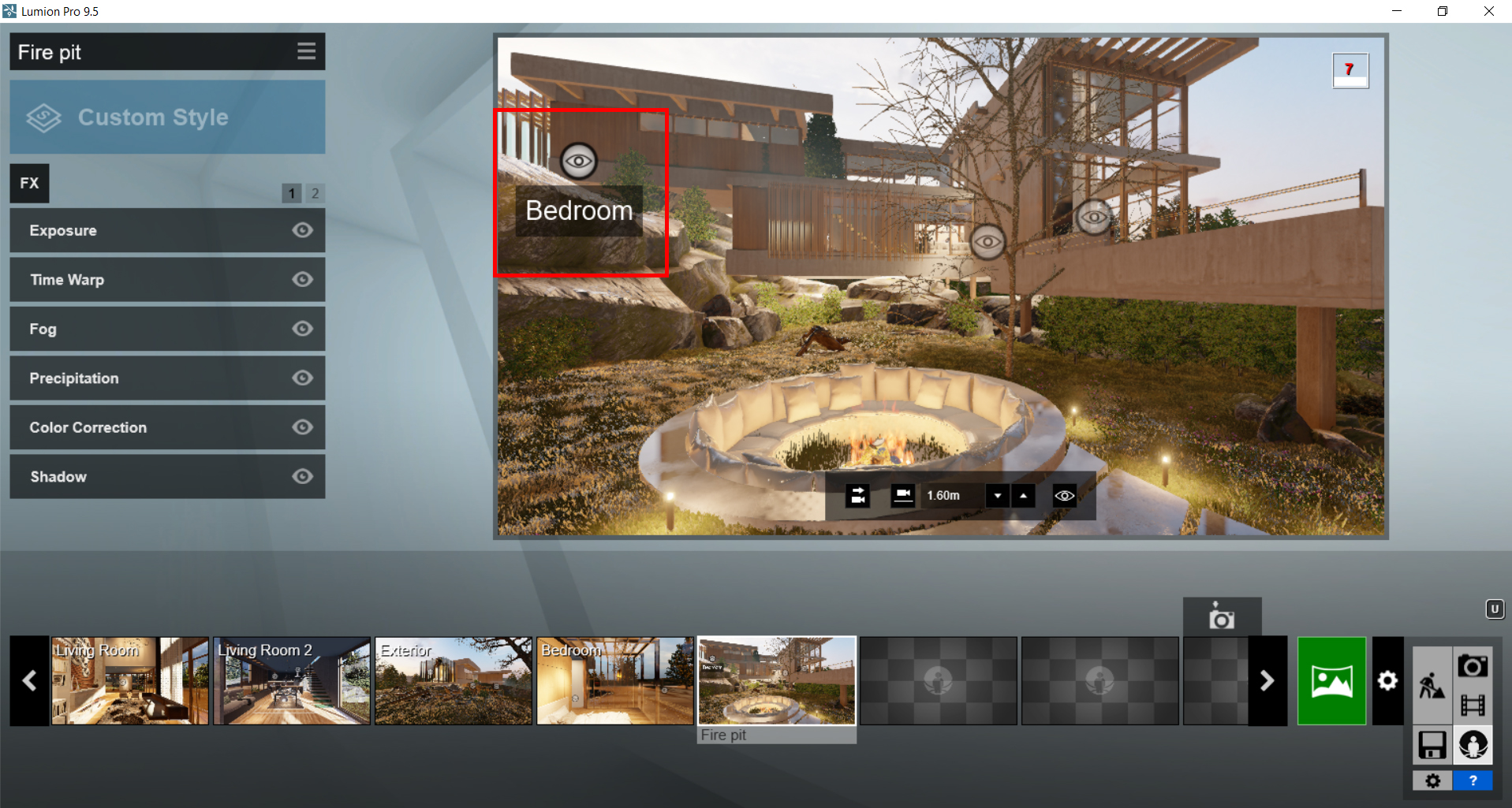 In this image, you can see various waypoints, allowing you to jump from one viewpoint to the next while wearing a VR headset.
Another idea is to turn VR into a social experience by sharing the content of the VR headset onto an external screen.
Communicate the deeper beauty of your designs with 360 panoramas in Lumion
Lumion 360 panoramas are a viable option for stepping through the front door of your project and feeling the space from an immersive point-of-view.
To integrate 360 panoramas and more into your architectural workflows, order Lumion 9.5 Pro.