Fly-through animations are of course a fantastic way to let your client get a look inside your design. They can feel the space in a very special way, as they move through it. Animations are also great for highlighting specific aspects of a design; only showing those parts that you really want to emphasize. Nevertheless, sometimes you want to give your clients the chance to navigate their own way around their building, at their own pace. 
But how do you combine the need for client-navigation with the ability to limit where, in your model, the client can go? This combination is often essential in telling the right story of the design, especially early in the design process, when the full design isn't yet ready. 
This is where MyLumion can help.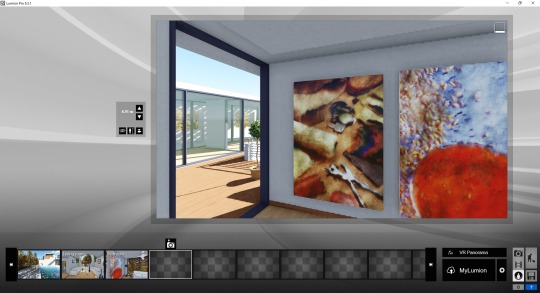 Above: Screenshot of Lumion in Panorama Mode
You choose the locations in Lumion that you want to render as 360 panoramas, like those shown in the screenshot above. The tutorial below shows you how.
Above: Short tutorial showing how to create panorama locations.
Then you render them to MyLumion – by clicking the big 'MyLumion' button, bottom right of the screen in Panorama mode. 
Above: Short tutorial showing how to render your locations to your MyLumion portfolio and view them via the MyLumion website.
You receive an email with a link to your renders. You can forward it to anyone you like, whether colleagues or clients. Moments later, they too can be navigating through your design by moving between locations, either in an order you specify or in one they choose.
This workflow is a simple and fast way to create a walkthrough with limits on it that you decide, based on what you want (and don't want) to emphasize in your design.
The MyLumion functionality (totally free with Lumion Pro) also offers the possibility to manage up to 10 of your projects online. The short video below shows how.
Above: Short tutorial showing how to manage your projects on MyLumion