Brandon architects, Inc.
Interview

The secret of success for the switched-on, vibrant team at California-based Brandon Architects
Mir Gaskari, Jeff Van Voorhis and Tyler Wilson from Brandon Architects of Costa Mesa, California explain how this young architecture firm is combining their flare for design with BIM technology and Lumion. They offer fast and appealing results to clients looking for high-end residences in prime locations in Southern California.

Above: the Brandon Architects team. First from the left is Mir Gaskari, the third from the left is Jeff and the fifth from left is Tyler.
What sets Brandon Architects apart?
We're just 5 years old but are very busy and growing fast. We do high-end residential mostly and our focus on 'smart design and better living', using a BIM approach based on Revit & Lumion, sets us apart. Our clientele understand what we are designing and what we are aiming for because of our ability to get them inside the designs with our visualizations and breakthroughs.
We do a lot of projects with a coastline and have 3D modeled the whole coastline topography in the area in Revit. Context is a big deal for us. The area around the design. This is one of the things that makes us unique.
Expectations now require a quick process but a lot of other architects are struggling to get onto a 3D platform. That's what puts us ahead. We have a young staff recently out of college but none of us has a software background. We all use Lumion.
How did you get into event design?
We are just 10 people at the moment.
It's a dynamic tight team and everyone gets involved on most projects. It's a great studio atmosphere and we don't want to lose that as we grow.



What challenges do you face?
There's a lot of regulation in California and space is at a premium, especially in high end areas. So maximizing plot design is important and tricky. We have to be very detailed. It's really important that the design team maximizes the potential of a plot of land, while still conforming to the regulations. To get the all-important ocean view right, it is often critical to get heights and viewpoints right too. We model neighboring properties to put our client's house in context in Lumion and then investigate the viewpoints.
Can you explain how you used BIM and Lumion in an example project?
We did a really interesting project called the "Coral Cove" project. The residence was in a high-end neighborhood and for a unique client. It was in a gated community with great mountain views. It was a stand-out project with unique materials and a few challenges. Great views were essential and these required a lot of glass and light but privacy was important too.
Lumion was crucial in helping us visualize the design and communicate it with the client, to show the kinds of views that were possible and explain how their privacy would be maintained.
Lumion also helped us to find the solution to the privacy/view problem. It allowed us to get inside the model and look around it with all the context in place, including realistic vegetation.
I honestly don't know if we could have created such a complex design without BIM. MEP issues, structural questions and general complexity were tackled by involving specialist contractors and consultants, who all used the same database and together helped build the total model for the project by contributing multiple models which were all brought together. The combination of Lumion and our BIM approach, based on Revit was critical to the success of the project.
This was a design-build project and we included subjects like materials scheduling and budgeting as part of our BIM approach. We had various kinds of schedules like for doors & windows, metal screens with different material take-offs. We were able to do a lot of studies early on to check various options, especially at the concept design stage.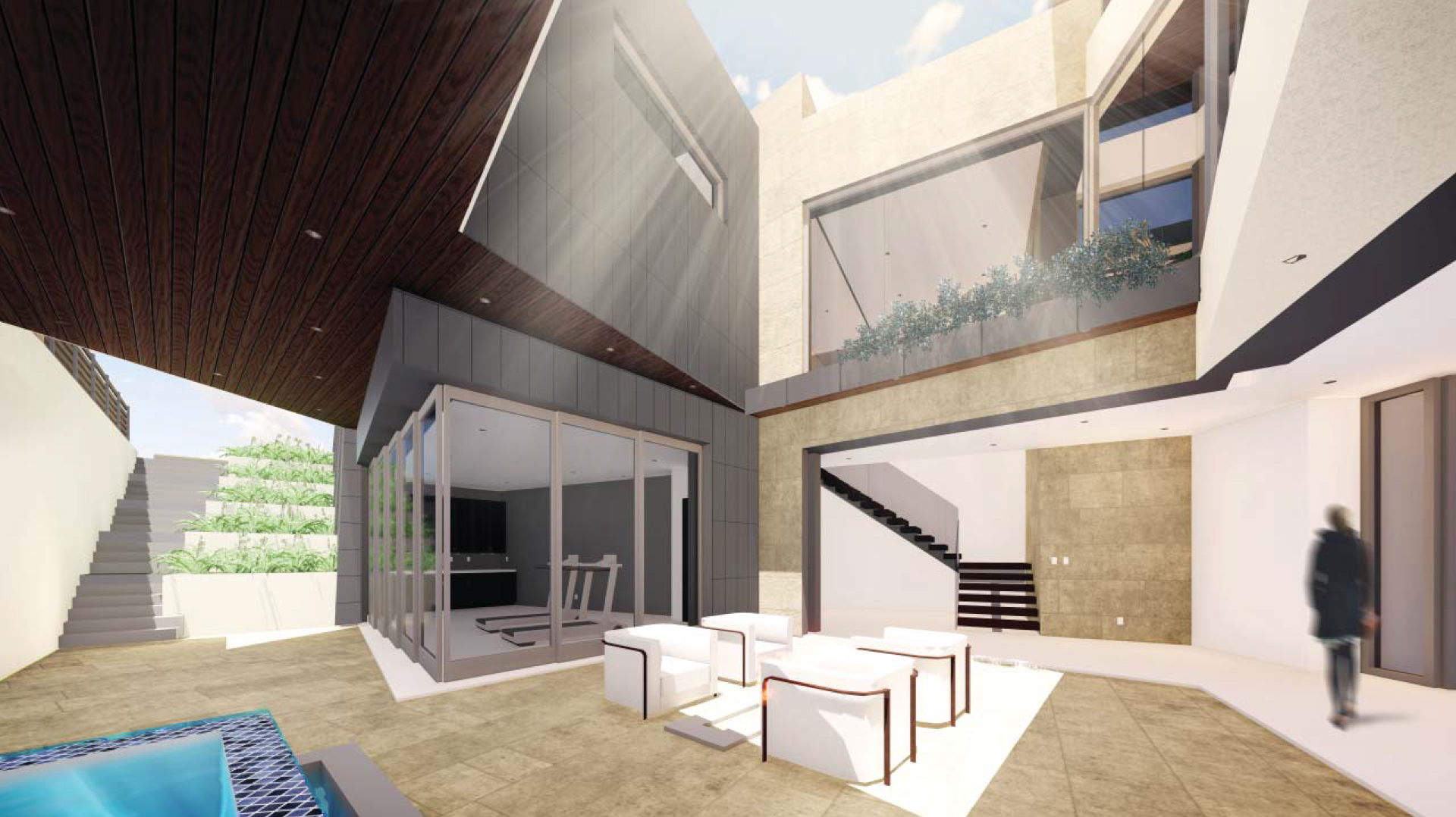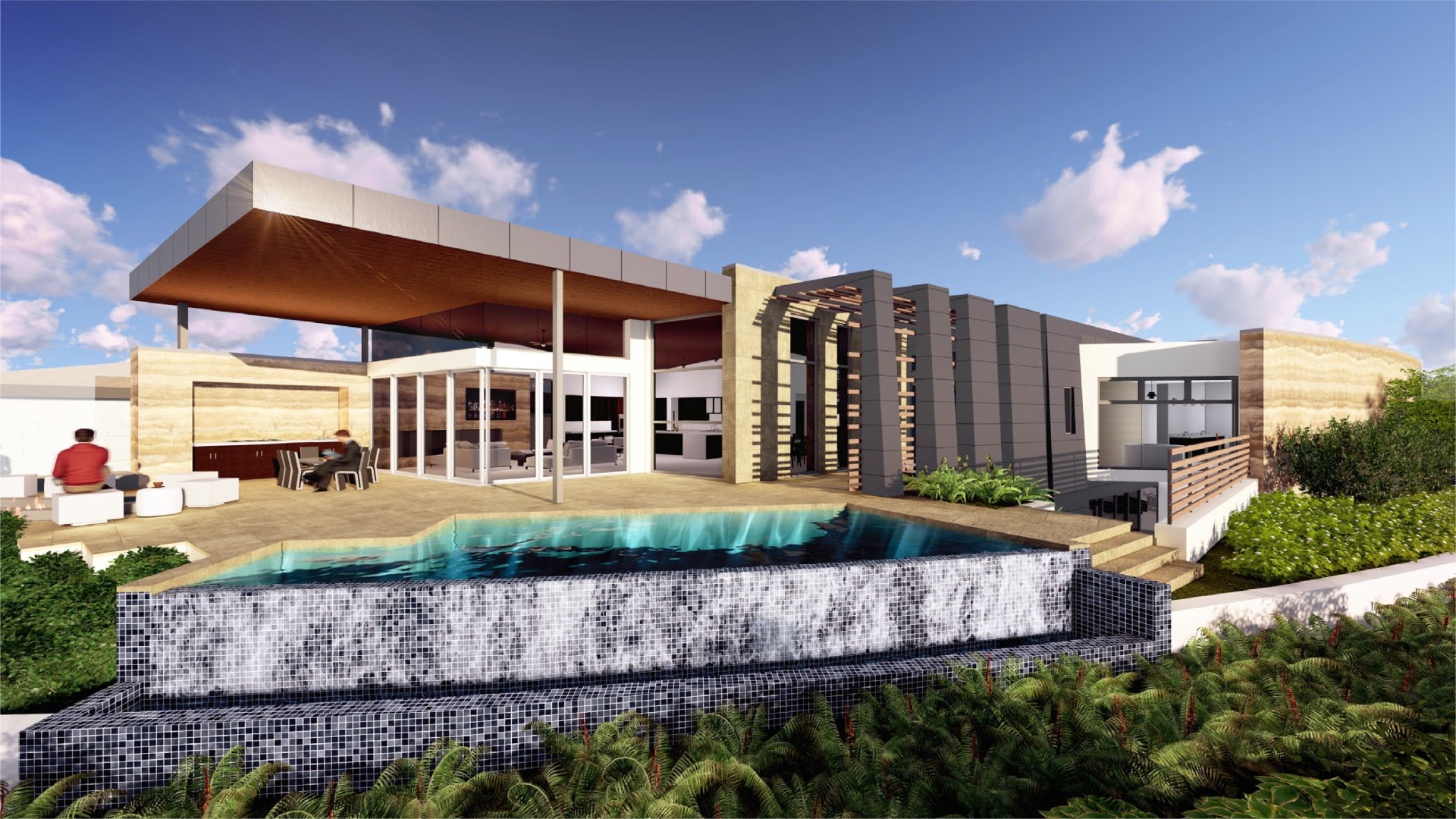 What's your design workflow?
Revit plus Lumion forms the basis of our workflow and during every project, the whole team will get a chance to jump into Lumion at some point. The designers are always open to new things and we often put new things on the table in our projects. Like we recently adjusted our standard material library in a project. We set it up in Revit and brought it into Lumion.
We also use some other visualization tools, and while Lumion has office-wide use, something like 3ds Max is more used by just a few of us with specialist experience. Not everyone is able to use that but Lumion is used as part of the design process by the designers themselves. It gives a sense of space. It helps convey what the architects are going for in a design in the context of plants, entourage, etc.
We have a lot of experience in landscaping too, because we like to show our projects in context. The fact we've modeled a lot of coastline terrain and that Lumion is so good for showing landscape, gives us a lot of capability in this area. We also do a lot of indoor/outdoor living by using sliding doors and terraces. Landscaping is one of the things which sets Lumion apart as a graphics engine and sets us apart as "Design-Builders". The clients always get excited when they see the images and animations we show them. Especially the plants!
Lumion was a pioneering change for us and made new things possible. Before Lumion we used just Revit, also for our visual communications. Lumion warms up the rendering through the entourage and vegetation.
We've also gone for Oculus and VR. Our clients put the goggles on but someone else drives it. The main presentation to the client is usually Lumion animations and images but then we do a VR thing with the Lumion Panorama outputs at the end, as a kind of bonus. We like to use it as part of the story that we involve the client in.
Another key thing about Lumion is that our timelines are often narrow and doing things fast is crucial. Lumion helps out there because it's so fast to get a result and change it when needed.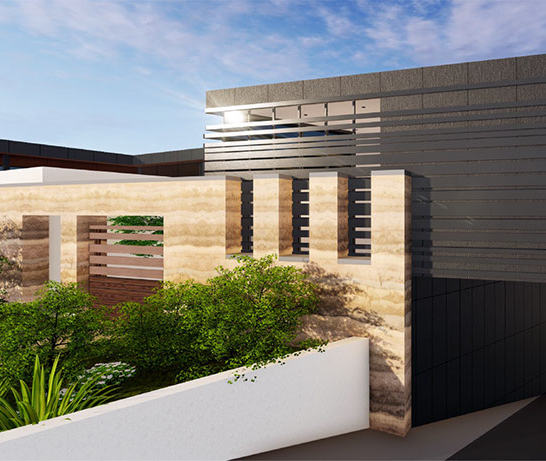 Yes! Growth is definitely part of the future of our company but we have a really nice studio atmosphere at the moment and we want to make sure that we keep that as we grow. We concentrate on residential properties now but we will probably move more into commercial and hospitality projects as we expand. Our first employees started working just five years ago but we've grown fast and we will have a second office soon!