Creating places in Lumion
HKS Inc. in Dallas, Texas is a major architecture and engineering firm in the USA, ranked #56 in the world by ENR. They were one of the first, among the 28 firms in the top 100 list, who have started using Lumion in their design workflow.
"HKS has got 20 designers using Lumion for almost every project, and the numbers of Lumion users in HKS will likely double in a short time frame," explains Davis Chauviere. "The simple reason is that with Lumion, HKS is helping the client discover the project concept in a new setting. For example, we used Lumion on a school project with visual clutter in front of the school that had to be considered part of the design, and it was vitally important that the client be involved in these considerations during the project design. Using Lumion to easily and quickly produce visualizations made it much simpler to explore the model with the client, thereby making the visual clutter – cars, traffic lights, street cables, fences – easier to point out."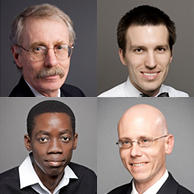 Davis Chauviere, Oliver Cox,
Isaac Mensah, Steve Valenta
HKS – experts on healthcare and hospitality
HKS is ranked #2 in the world in healthcare design and #3 in hospitality design by BD World Architecture. A recent children's hospital project by HKS was brilliantly visualized in Lumion and included several animations, each presenting the hospital in a different way.
 "We made the hospital overgrown with plants to achieve the desired look and feel, using more than 15,000 plants from the Lumion library in the scene, " states Chauviere adding, "I don't think many people know or appreciate the hard work behind optimizing 3D objects to low polygon count, and still have them look convincing. The amount of high-quality plants and 3D objects in the Lumion library that can be used is impressive."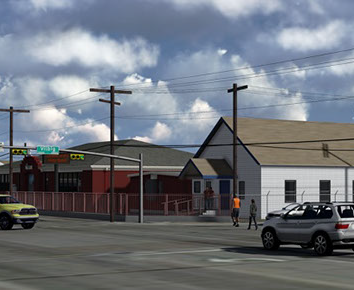 "A persistent architect came to me several times urging me to try Lumion. And when I first opened the program, I immediately got the same feeling I had years ago when we discovered SketchUp."

Lumion halves the production time and doubles the design time
For HKS, the discovery of Lumion has enormously improved their workflow, especially when clients order animations. In weekly update meetings, the typical workflow used to be like this: two days designing and three days getting the model prepared and rendered.
Now HKS designers are designing for four days and the preparations and rendering have been reduced to just one day. "This is a huge improvement for both the client and us." says Chauviere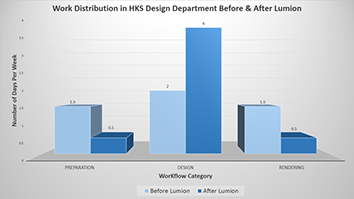 The above chart demonstrates how Lumion has redistributed the workflow
so that it is much more efficient and as
a result, designers are able to spend their time designing!
This efficiency improvement, in turn, leads to a higher quality in the design output. The visualization capabilities of Lumion, combined with the way it removes workflow inefficiencies, has made it a big success for HKS.
Davis Chauviere summed it up nicely: "Lumion enables us to bring more value to clients during the design process, which makes our clients happy and willing to invest in exploring and enhancing their new buildings."
Many thanks to HKS attendees in the interview
Steve Valenta, AIA – Vice President and Director of Technology
 Davis Chauviere, AIA – Principal and Senior Vice President
 Isaac Mensah – Associate and Visualization Specialist
 Oliver Cox, AIA – Project Architect