Interior design
Feel the space and experience interior design like never before
Invite others to feel the life of your interior designs
Lumion 3D rendering software is made for interior architects and designers who simply want to breathe life into their interior designs, and share their detailed vision for the project.
From living rooms and bedrooms to office interiors and hotel lobbies, 
Lumion makes it easy to show interiors with a photorealistic interplay of lighting and shadow, materials that feel real, and a large content library of objects to help you quickly and easily create lived-in settings.
"I love Lumion because it makes rendering a part of the architect's toolbox, and not a service provided by an external party."
Hilbrand Wanders, architect at Studio AAAN.
Capture light. Soften shadow. Feel the space.
Interior 3D renderings are one of the main devices that designers and architects use to communicate their interior design or architecture project. With the help of intuitive software like Lumion, you can find all of the crucial tools and features necessary to capture the beauty, style and mood of your project.
All you need to create incredible renders is a 3D model of your interior design project. Because Lumion is compatible with all CAD and 3D modeling programs, you can easily import your 3D model or simultaneously start a live, real-time synchronization with Lumion LiveSync.
After importing the model, the next step is to create the scene. For interiors, this means taking advantage of Lumion's large content library (with over 6,900+ items and 1,350+ materials) to add furniture, lighting and utility fixtures, glass for windows, fabrics, rugs, tile floors and so on. No matter the look and feel of your interior, you can likely find high-quality objects and materials in Lumion's library in a matter of seconds. If you can't find the specific object or material that you need, simply import it in.
Once the scene is built, the last step is to add cinematic photo or video effects, and then render! 
Two reasons why Lumion enhances interior design rendering
1. Accurate representation of space with beautiful lighting and shadow
Architects understand spatial information much better than the average Jane or Joe. With the help of Lumion rendering software and its innovative lighting and shadow technology, you can always give your clients an accurate impression of width, height, depth and scale. For instance, Sky Light 2 daylight simulation technology (combined with Hyperlight and soft shadows) strengthens the lifelike feeling of your project's 'natural' lighting display.

2. Large content library of objects and materials
Lumion comes with over 6,900 items and 1,350 materials in its large and easily searchable content library. This makes "scene building" a quick and enjoyable experience, helping you create the right furniture arrangements or lighting setups in minutes. For materials, you can import your displacement maps into the material to make them feel as real as possible. Check out how displacement maps can breathe life into materials here.
Render beautiful interiors. Capture your vision in the best possible light.
Even if you have no 3D rendering or CGI experience, Lumion empowers architects and designers to quickly and easily create professional renders of their interior designs. From the first phases of design development to the construction documents, Lumion ensures that you have a deep, insightful view of your design by conveying it in its real-life environment.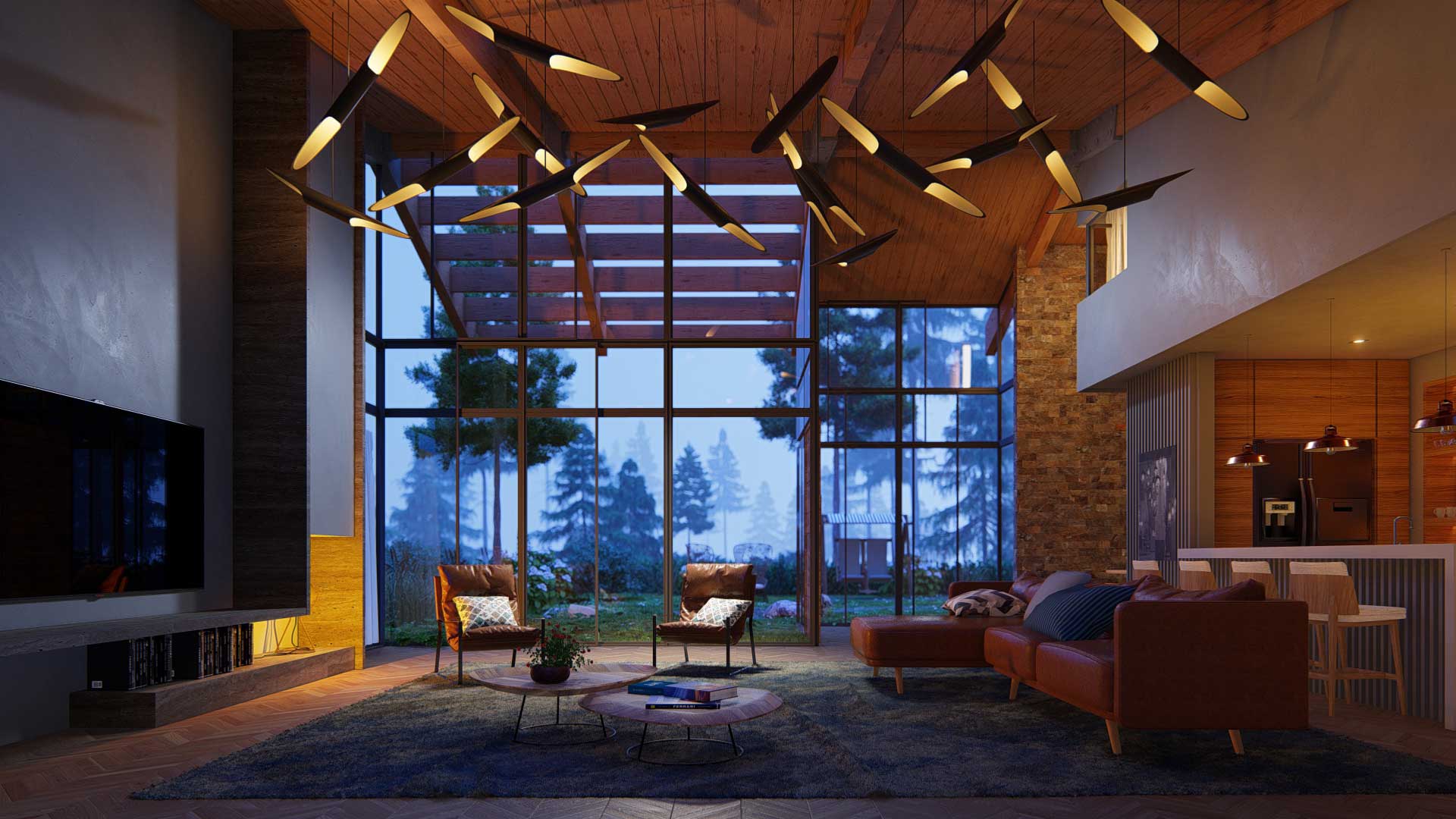 Want to see how Lumion can improve your workflows? Download the free, 14-day trial.