Architectural rendering
Tell the story of your architectural design with beautiful images, videos and panoramas
Discover the best way to communicate architecture with Lumion
Lumion is 3D rendering software made specifically for architects who want an easier, and faster, way to show their designs as beautiful, photorealistic renderings and artistic impressions.
Lumion is compatible with all 3D modeling and CAD software programs. Once you import the model, Lumion makes it easy to convey your vision for the design in its real-life setting, from rural mountains to scorching deserts, rainy cities to tranquil suburbs. Rendering is extremely fast, giving you the benefit of beautiful, professional visualizations of your project whenever you need them.
"In the span of three days, I taught myself the program, I rendered a high school, and I produced the animation for it."
So if you have no architectural rendering experience, no worries! Lumion is designed to turn the practice of architectural rendering into a stress-free, enjoyable experience.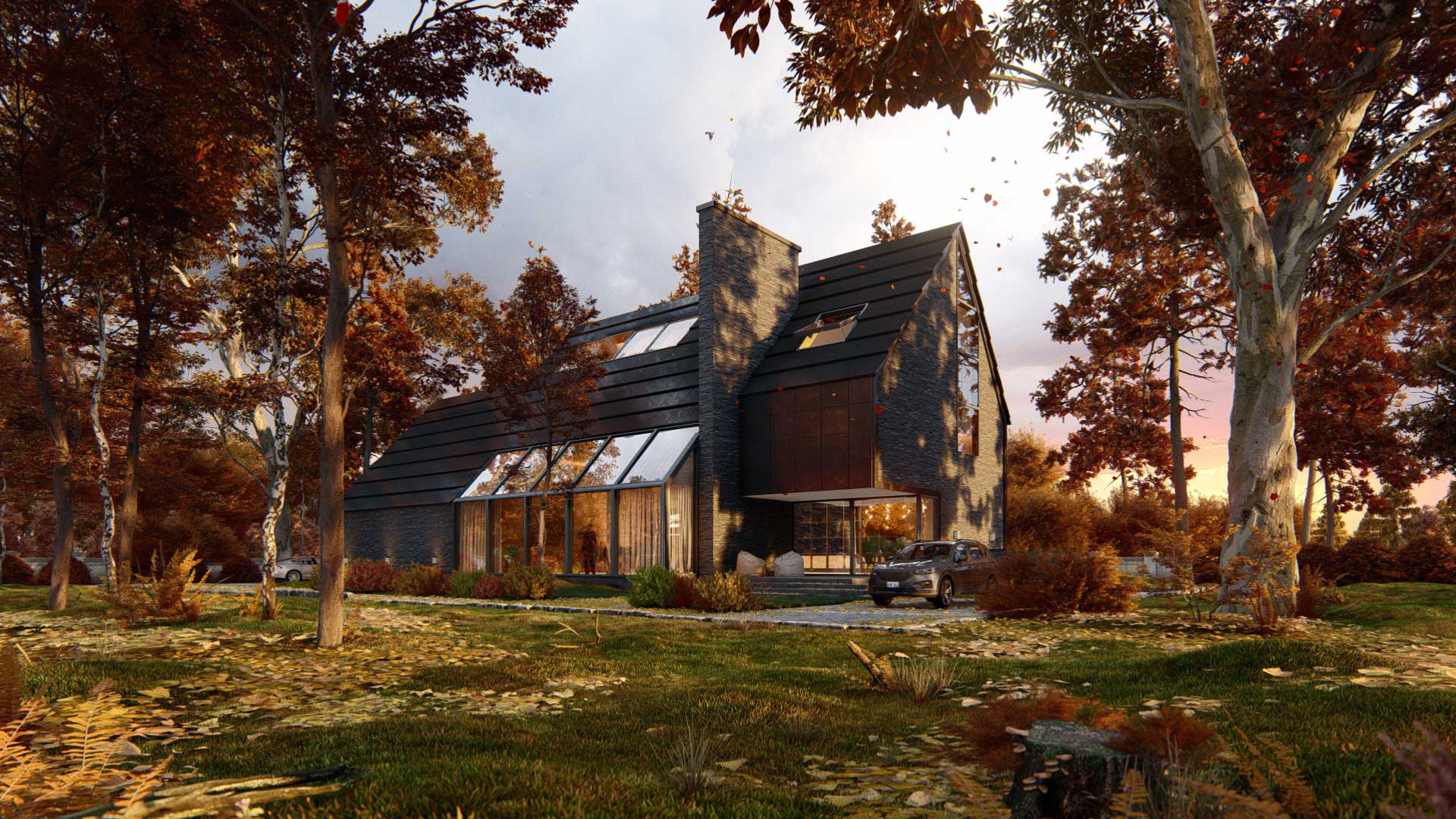 Lumion is based on the principle of reducing the effort needed on your end to transform your static, 3D designs into beautiful images, videos and 360 panoramas.
To start, Lumion is compatible with all of the major CAD and 3D modeling programs. This means that, for example, you can import a residential home design from Revit and a landscape design from Vectorworks into the same Lumion project.
After importing your model, Lumion features intuitive, user-friendly tools to help you shape the setting for your design.
With Lumion's large content library containing over 6,900+ objects and 1,350+ materials, you can quickly add finely detailed trees and plants, indoor and outdoor furnishings, people, cars, lighting and much more.
When you're ready to create an image, video or 360 panorama, you can apply photorealistic, artistic, and cinematic effects to create a distinct look and feel for your architectural rendering. Creating renders with Lumion is fast and easy, helping you unleash creativity when showing your vision for the project and letting you re-render any last-minute updates in minutes.
5 reasons why Lumion improves the architectural rendering workflow
1. Wide compatibility
Lumion is compatible with all CAD and 3D rendering software, including SketchUp, Revit, ArchiCAD, Vectorworks, Rhino and others. Furthermore, if you have special furniture, materials or other fixtures that you need to include in the rendering, you can import objects and materials as well, even if you created them in other programs.
2. Real-time rendering with Lumion LiveSync
Lumion LiveSync creates a real-time connection between several 3D modeling programs and Lumion. With this connection, you can work on your 3D model while simultaneously visualizing it in Lumion's breathtaking, fully detailed environments. As a result, you can always see how your design choices will look in the project's context.
Lumion LiveSync is available for SketchUp, Revit, ArchiCAD, Rhino, Vectorworks, AutoCAD, BricsCAD and FormIt Pro.
3. Intuitive project editing tools
Context is crucial when communicating your architectural designs. Fortunately, no matter the setting for your project, Lumion makes it easy to create mountains, hills, lakes, rivers and any other type of environment. When placing objects or applying materials, you can quickly search through the massive content library and customize the look, placement, scale and other elements of the objects and materials.
4. Cinematic animations
In addition to creating images and 360 panoramas (which you can use in VR headsets), one of Lumion's strong points is its video-making tools. With Lumion, you can create compelling, cinematic movies showcasing all of the important elements of your design. You can also animate people and other objects (such as cars, birds, doors and more) to truly breathe life into your design.
5. Fast rendering
In the past, rendering was a slow process that didn't really encourage quick design iteration. With Lumion, you can render images in minutes and videos in a few short hours.
If you need to modify the model during the design development phase, you can quickly render dozens of images to help make the right decision. If you need a new image or video for the upcoming presentation, you can rely on Lumion to get you an outstanding result faster than ever before.
Lumion is fully compatible with almost every 3D and CAD program
The idea behind Lumion is widespread compatibility to ensure that simple and fast architectural visualization is available to every architect and designer, no matter the 3D or CAD modeling software they use. Everything is designed to save you time.
With LiveSync, Lumion's real-time rendering feature, you can create a live connection between Lumion and the major CAD programs. Even if LiveSync isn't available for your CAD software, you should still be able to enjoy seamless import, model reimport and compatibility.
Lumion is fully compatible with and has LiveSync plug-ins for
Lumion is fully compatible with many other 3D modeling programs, such as